In Her Shoes Home
Urban Entrepreneur Mixer
By
|
(L-R): Carlecia Taylor, Ashaki Ward, Lorraine Natasha West, Courtney Adams, Traceye Bey, Ashaka Givens, Renae Bluitt, Marsha Murray
I had the pleasure of attending the first ever "Urban Entrepreneur Summer Mixer" hosted by Carlecia Taylor of NYC Department of Small Business Services, and have been wanting to to tell you all about it! As the lead on several of Mayor Bloomberg's programs designed to help small business owners, Carlecia pulled together a diverse mix of young and gifted New York City entrepreneurs to share valuable information on the resources available to us from our wonderful home, New York City.
Lorraine Natasha West, Fine Jewelry Designer: www.tashawest.com
On a muggy August evening, about 15 hand-picked entrepreneurs gathered in Harlem to learn how the City can help our businesses grow, find out about potential contract opportunities, and network with one another to create synergy between our brands. Courtney Adams, co- founder of Uptown Comfort, a Harlem-based catering company, shared her testimonial on how the city's resources helped take her business to the next level. Carlecia and her colleague, Larry Scott Blackmon, Senior Strategist for Mayor Bloomberg NYC,  shared insightful information on how the programs they manage were created with each of us in mind.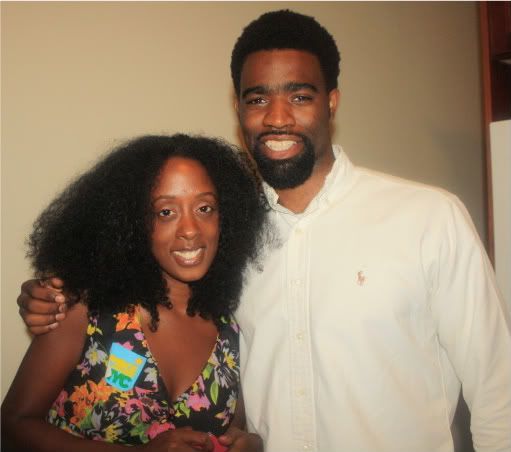 Renae & Alzo Slade, Photographer: www.alzoslade.com
Overall, it was a beautiful evening for building, inspiring, gaining insight (who knew the City had so much to offer?), and preparing for what's next on our entrepreneurial journeys. The intimacy of the group enabled each of us to walk away knowing more about the next entrepreneur than we ever would have leaving a traditional networking event. Stay tuned for Carlecia Taylor's exclusive interview with In Her Shoes where she'll share insider tips on how to take advantage of the City's amazing small business resources.
Until then, enjoy the rest of the photos, check out the following link to learn more about the New York City Department of Small Business Services, and make your dreams come true!
http://www.nyc.gov/html/sbs/html/home/home.shtml
Carlecia Taylor: Executive Director of Policy and Planning, NYC Department of Small Business Services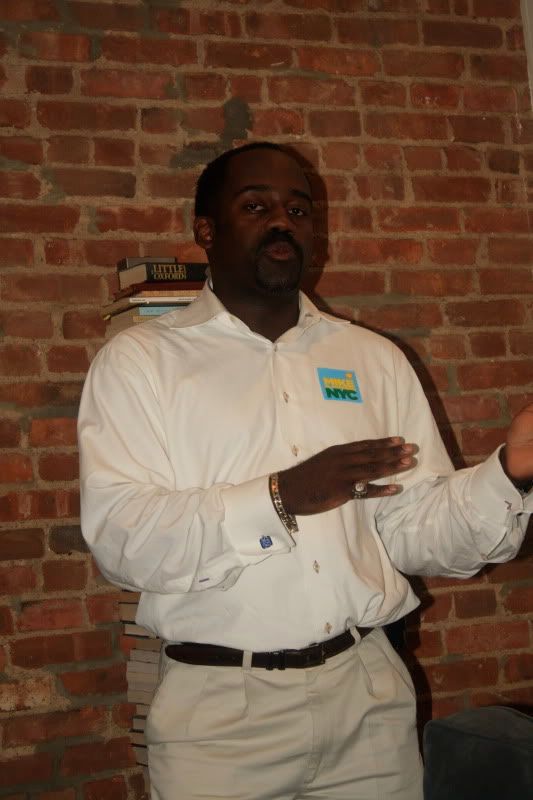 Larry Scott Blackmon: Senior Strategist for Mayor Bloomberg NYC
Mixing & Mingling
Ashaka Givens, Fashion Designer, www.ashakagivens.com
Lorraine Natasha West and Ashaki Ward:  Singer/Songwriter, www.soashaki.com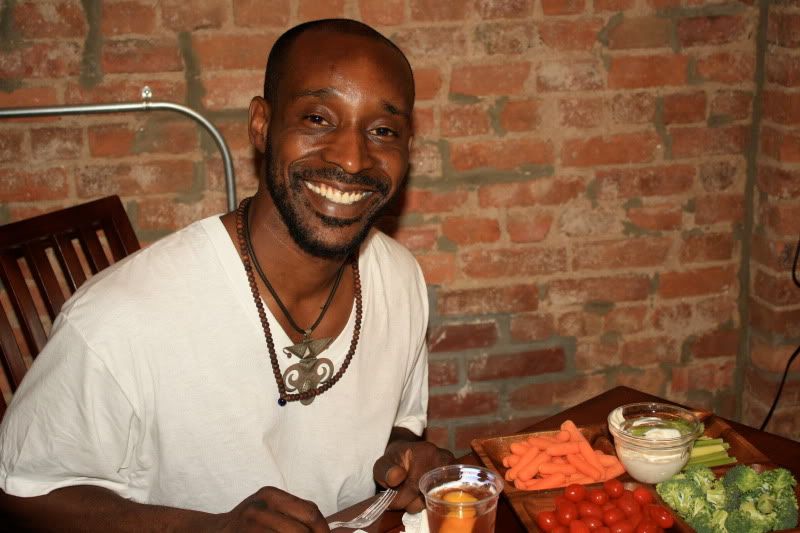 Robbie Morgan, Shadowflack Apparel Inc/ www.iluvblackpeople.com
Courtney Adams, Co-Founder: Uptown Comfort, www.uptowncomfort.com