Guest Bloggers
Surviving Social Media
By
|
By: In Her Shoes Guest Blogger, Katrina Craigwell
Social networks make people feel connected and plugged in. For many, the number of Facebook friends and Twitter followers we have is now indicative of our social capital.
But we too often forget that we are what we post. Just because we're hiding behind our computers, doesn't mean we have anonymity. Working in social media, I constantly advise companies on how to manage their online profiles and use the Internet to their advantage. This is just as important for us as individuals. So here are a few tips on navigating social media as professional women: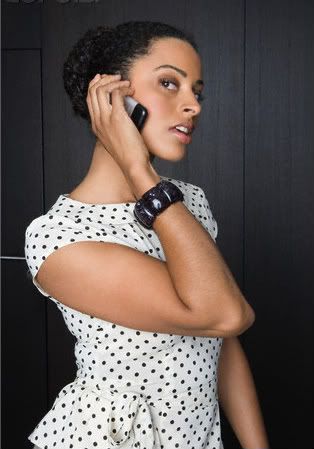 1. Say it directly. If you've got something important to tell someone, pick up the phone. Wall posts, tweets and comments do not equal meaningful interaction. As foreign as the phone may seem (I'm in this boat too) you'll be able to build much deeper relationships after a few calls.
2. Research in moderation. I won't say don't Google people you've just met, because a little homework on someone can be helpful now and again, in moderation. Allow yourself one Facebook search and one Google search. Determine whether the person is sloppy enough to publish incriminating photos of themselves or has a criminal record, and then let them tell you their story, in person.
3. A relationship on Facebook does not equal a relationship in real life. Just because someone interacts with you on Facebook, does not mean they're the one for you. And if you're hard-pressed to get them to connect with you off of the social network, then they don't have your best interests at heart.
4. Know yourself. Your online profile is often part of the first impression you'll make on someone new. So put your best foot forward. If you're funny, be funny. Into fashion? Share photos. However, knowing that prospective employers often Google you as background and that your friends and family will proudly look to your Facebook page to see what you've been up to, posting half-naked photos of yourself, suggestive commentary and derogatory messages may not be the best way to go.
5. Set up your LinkedIn profile and keep it updated. HR professionals and forward-thinking companies are consistently using LinkedIn to search for new talent and business ideas. As an entrepreneur it's a great way to stay plugged in and leave yourself open to a variety of opportunities.
So what's the moral of the story? Have fun, but don't lose who you are. It's the same thing we say to each other on a day-to-day basis. The same lesson you teach your little sister or cousin in her teenage years. Remember that the online world is one part of a much larger social canvas. So love yourself and make the Internet work for you.
About Katrina Craigwell, Social Media Marketer, Attention:
Katrina Craigwell works for Attention, a boutique social media agency based in New York. She focuses on media and consumer-based clients, and specializes in blog outreach and the creation of branded presences across social networks. She oversees the day-to-day needs of various clients and operates as team manager where needed.
Prior to joining Attention, Katrina was a member of the marketing team at AlleyCorp, a network of Web startups based in New York, where she focused on creating marketing collateral for the network's various sales teams.
For two years, beginning in 2006, Katrina worked in public relations at the Independent Film Channel (IFC) where she supported the department and managed online outreach for the network's on-air and online content.  Katrina led outreach for IFC's web series and served as executive producer of a series of online video panels promoting IFC News' Election Coverage. The panels brought together personalities from Political Lunch, AOL and College Humor, to discuss the most recent election.
Katrina regularly appears as a guest speaker for the NYU School of Professional Studies' Digital Media Marketing program. She covers social media and how to best use the landscape for authentic promotion. She was also a panelist for the Digital Media and the Independent Filmmaker symposium, at the 2009 American Black Film Festival.