Fly Female Entrepreneurs
Fly Female Entrepreneur
By
|
Briana Bigham: B. Marie/BET's Harlem Heights
Are you tuning in to BET's newest reality addiction, Harlem Heights? Documenting the lives of eight young, black and oh-so-fabulous 20-somethings, Harlem Heights has been welcomed by critics with open arms and touted as one of the network's most positive and inspiring series to date. I have to admit that I was a little late to the game but trust me, I'm now a loyal viewer with friends who have grown accustomed to my "do not disturb" approach to Monday nights.
While Harlem Heights depicts the highs and lows of living out your dreams in the cultural epicenter of Black America, it also addresses many timely issues such as social responsibility, morality, and my personal favorite, entrepreneurship. Briana Bigham, the series' no-nonsense, resident fashionista serves as the group's voice of reason and quintessential woman about business.
Although she could have easily rested on her laurels as designer for well-respected brands like Victoria's Secret and Laundry by Shelli Segal, Briana has decided to maximize her focus, talent, and handbag obsession by walking an entrepreneurial path. I had the pleasure of connecting with the impressively driven Miss Bigham to discuss life as a new reality television star and the launch of her highly anticipated handbag line, B. Marie Style. Here's what she had to say:
In Her Shoes: How was your transition from designing for Victoria's Secret to designing for yourself? What are the perks and setbacks?
Briana: At Victoria's Secret I was a technical designer which to me is one of the most important jobs in design. You are the architect of the garment, dictating the specs, construction, and how it should fit. Without technical designers a design is just that, a design. Technical designers bring the idea to life. Having a corporate design, technical, and production background is extremely crucial to building my brand. It means I'm knowledgeable in all aspects of getting my product from paper to store shelves.
The setback in starting a business is that unless you already have a strong relationship with a factory, it's hard to get your product on a production line. Luckily for me, I have good people around me that pointed me in the right direction.
Jacket Designed by Briana Bigham for Laundry by Shelli Segal

In Her Shoes: How would you say your experience at FIT shaped you for success in the future?
Briana: I learned a lot at FIT, the school's Fashion Design program is one of the most elite in the world. With alumni such as David Cho (Nautica), Ralph Lauren, and Donna Karen, the school inspires you to be your best. My drawing, draping, and sewing skills improved 300% because of FIT. They prepared me for the ego and attitudes that awaited me once I was released into the industry. I credit them extremely for my success.
In Her Shoes: Your cousin Bridget has been a major advocate of your handbag line but unfortunately, many aspiring entrepreneurs aren't blessed with this type of support system. What words of inspiration would you share with a woman considering launching her own business?
Briana: Everyone in the world can believe in you, but it all comes down to believing in yourself. Education in the business and grinding are the keys to success.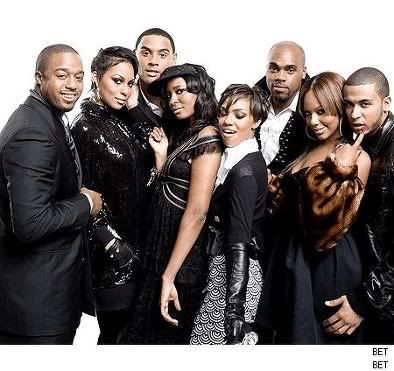 In Her Shoes: What are the advantages and disadvantages to launching a business on reality television?
Briana: I don't see any disadvantages in launching your product on a television show. The audience gets a chance to know you and your style. Therefore, you can build a following of people who will want to purchase your product. Being able to launch my brand on national television was a blessing. I can't think of many designers who have had that opportunity. I am very grateful to BET for believing in me.
In Her Shoes: So many success-driven women are wearing multiple hats to bring their dreams to life. How did you balance working at Victoria's Secret, filming for Harlem Heights, launching B. Marie, and having a personal life?
Briana: That's hard to explain, I just did it! LOL. I've been grinding for many years now, and my body has adjusted to the long hours and stress. It's determination, love for my craft, and fear a failure that drag me out of bed every morning.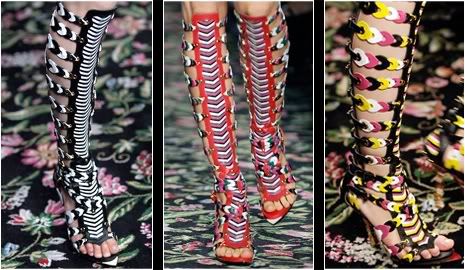 In Her Shoes: Tell us about a day in Briana Bigham's shoes.
Briana: My days aren't as uniform as they used to be, there is variation now. Lately it's been waking up early to work on design layout of my website, and brand strategy. Talks with my production liaison on choosing a factory for my collection."3B" (Briana, Bridget, Brook) dinner with the girls to catch up on everybody's crazy weeks. Attend an industry event, that will most likely lead to me partying at a club until the wee of the night. Then wake at 8:00 a.m. to do it all over again. I love my life!
In terms of a shoe that represents my style, the Balenciaga gladiator is my favorite. The summer will be my fourth season in a row I've rocked the look. Gladiators are fun and timeless.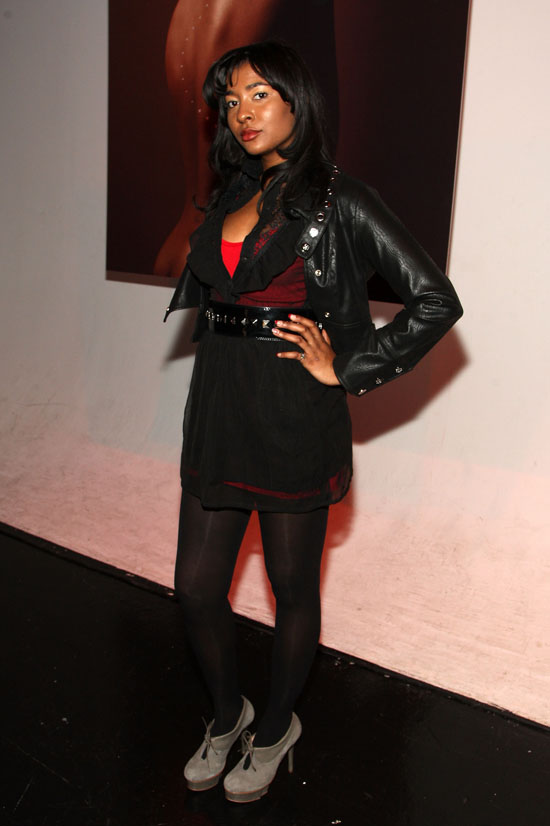 In Her Shoes: You were quoted on Harlem Heights as saying "whatever I throw my hat into the ring for needs to be on point." I love this attitude and wish more people would think this way. How would you say that this approach to business has attributed to your progression?
Briana: I've never been in a rush to get my brand out. I've done a lot of research, and planned my approach very carefully. When it's time to introduce my line every "i" will be dotted and every "t" will be crossed. Not half-assed! LOL.
Photo courtesy of: superswagger.com
In Her Shoes: What three words would you use to describe the B. Marie brand?
Briana: Fierce. Fashion. Forward.
In Her Shoes: What is B. Marie's price point and where can In Her Shoes readers get their hands on one of your pieces?
Briana: You can get a collection piece to handmade custom handbags from $350-$2,000. The brand's website, www.bmariestyle.com, launches at the end of April 2009.
In Her Shoes: Any closing thoughts?
Briana: Watch my show Harlem Heights every Monday at 10 p.m. EST on BET to see the progression of the B. Marie brand from perception to reality!