Fly Female Entrepreneurs
Fly Female Entrepreneur
By
|
Maya Lake: Boxing Kitten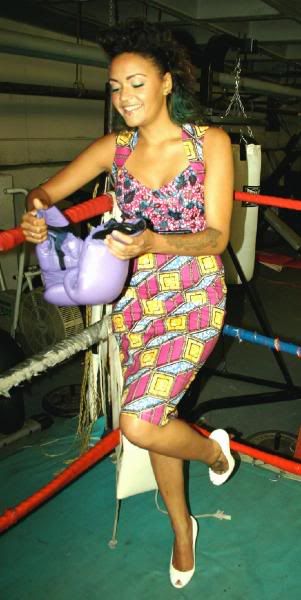 Photo Credit: Cespedes Studios
In Her Shoes:  How did you arrive from designing as a little girl to having your clothing sold in various boutiques and worn by style mavens such as Erykah Badu and DJ Rashida?
Maya Lake: I started off just doing this as a fun thing for my friends and family but it wasn't until my senior year in college that I started taking my craft seriously. I always took it seriously but I started understanding that I could make a living from my work.  Being an artist, I had many other creative friends and those friends included Sa-Ra Collective. After doing a video shoot with them for "Feel the Bass" (which Erykah guest appeared in) I ended up giving her a dress. After that  we developed a working relationship and one thing led to another. I always admired DJ Rashida for her musical ear and sense of style. I got ahold of her contact info and just sent her things I thought that she would like and she has become a great friend. It's been an honor to see her wear my pieces. Very soon after I made my first collection and then just kind of hit the pavement doing whatever I could to expand.
In Her Shoes: Most people may not immediately make the connection between history and fashion—explain how that comes alive in your pieces:
Maya Lake: I was an African American studies major in college and the one thing that always interested me was the way in which women used fashion through time to display and debunk myths of sexuality. The two fields of fashion and colonial history and African American history in particular were never separate issues for me. I am constantly inspired by history and literature and the most inportant thing to me is to understand the interconnectedness of everything.
Photo Credit: Kwesi Abbesetts
In Her Shoes: There's so much intellect and thought behind your work. Explain your theory of contradiction and why you decided to comment on that within your clothing lines.
Maya Lake: I think the issues of authenticity, hypocrisy, and contradiction are always perplexing and thought provoking. I am very much inspired by W.E.B. DuBois' The Souls of Black Folk, and he talks a lot about contradiction and what he calls "double consciousness."  I just think that if you embrace contradiction and hypocrisy you will almost never be disappointed and life will always be exciting. I just love the idea of putting things together that don't belong together.
In Her Shoes: Tell us what a day is like in Maya Lake's shoes:
I wake up, have a cup of coffee, feed my cat Fancy whom is also the love of my life! I'll either a) send some emails have a meeting or a fitting depending on what's on my plate, or b) head over to my work space lay out some fabric and cut about four or five dresses. Right now I'm working on new bodies which takes lots of trail and error. So I may spend an entire day on one dress. Then I will sew some dresses get my mothers opinion on what to change or how to make the pattern more effective. then have some dinner.
Night Time: Right now I'm in Los Angeles and my favorite spot to go is Chateau Marmont on Sunday night to have a drink and listen to DJ Rashida spin. Then I wake up and do it all over again!
In Her Shoes: You've designed for some of the most purposeful women in music, fashion and entertainment. Are you selective when deciding who you will design for and how you'll market your brand?
Maya Lake: I definitely have other women in mind that I would love to work with. But I can be secretive about things like that. Of course would love it if someone I might not expect reached out to me but so far most of the women I have worked with,  I've been totally honored and lucky to work with!  I just made some pieces for Director Melina Matsoukas, and Solange Knowles, and I couldnt ask for better clients! The kind of woman that wears my brand is confident, powerful and most of all, self reliant. So far I can say I believe my customers both celebrity and civilian have represented!
*Update: After completing this interview Maya found out that Fergie just purchased one of her pieces from L.A.'s Petro Zellia Boutique. See photo below!
In Her Shoes: If you could exclusively design for one powerful, strong and accomplished woman today, who would it be and why?
I don't think I could just pick one! The obvious choice would be Michelle Obama. I mean, who wouldn't want to dress such a fabulous woman!
In Her Shoes: What fashion icons have inspired your work?
Maya Lake: All of my pieces are named after women whom I admire. Including, Eartha Kitt, Lena Horne, Pearl Bailey, Diahann Carrol and Billie Holiday. I would love to make a piece as an homage to Nichelle Nichols. She and Captain Kirk shared the first interracial kiss on broadcast television, and Star Trek was such an amazing show!
In Her Shoes: Where can we expect to see Boxing Kitten evolving in the future?
Maya Lake: I would really love to incorporate batiked fabrics from other parts of the world. I love batik and I just think special textiles are inspiring and beautiful to work with. I would also love to actually design my own textiles.
For additional information on Boxing Kitten click here!
By In Her Shoes Contributor: Kamari Guthrie