Fly Female Entrepreneurs
Fly Female Entrepreneur
By
|
Tricia Lee: Polish Bar of Brooklyn
What do you get when you combine a cozy and inviting atmosphere with all of the beauty fixes a girl could ever desire? The Polish Bar of Brooklyn, of course! Polish Bar of Brooklyn holds the crown as the borough's very first beauty bar. It has been described by New York Magazine as an urban escape "with walls frosted in candy pink and treatments that borrow their most delectable ingredients straight from a baker's pantry…"
Despite a demanding schedule as she prepares to launch a second location, Polish Bar of Brooklyn's Tricialee Riley shared a bit of time with In Her Shoes to chat about the beauty of her business:
What was your career path prior to opening up Polish Bar of Brooklyn?
I always loved beauty, and worked in cosmetics in college. I moved to New York in the late 90's to work for MAC cosmetics. I worked for them at a time when they were so small, then massively expanded. I was there for their growth spurt, and was able to learn so much about cosmetic sales planning, event execution, brand building, and marketing. Working in New York enabled me the opportunity to run their stores, lead teams of artists, open new locations and build partnerships. I quickly realized I had business talent and an unhealthy obsession with beauty products. About seven years ago, I began to develop the PBB business model, and prepare myself (financially) to open my own business. In 2006 I woke up at 5:15 a.m. one morning, and decided this was my year to put it in motion.
Did you choose the beauty industry or did the industry choose you?
In 3rd grade, the beauty industry chose me. I was sent to the Assistant Principal's office with my BFF Debbie. I had taken my mother's eye shadow (electric blue), lipstick (fuchsia pink) and eye liner (navy blue) and done makeovers in the bathroom on a bunch of girls from homeroom. I then insisted that my mother was not only aware of me having possession of her items, but that she was completely supportive of my new look. Needless to say I got it when I got home!
What makes Polish Bar of Brooklyn unique? What influenced the concept?
Polish Bar of Brooklyn is unique because it is literally a beauty junkie's imagination come to life. We incorporate makeup and nails, focusing on the customer's experience, beauty trends and new services seasonally. "Get Pretty,"  refers to makeup services, "Get Polished" refers to nail services, and "Get Perfect" refers to other details (i.e., brow shaping, lash application, and waxing services). The store's concept is inspired by Neapolitan ice cream.
What are Polish Bar of Brooklyn's most popular services and why?
Our most popular services are our LUXE Pedicures. They are popular because of the products, massages and thorough callus treatments. Our semi-permanent lashes are also loved by women. We work to customize the lash to the face and eye shape, so they are glamorous and not ghetto fabulous. Our PBB parties also are a favorite for bridal showers, Sweet 16's and book clubs.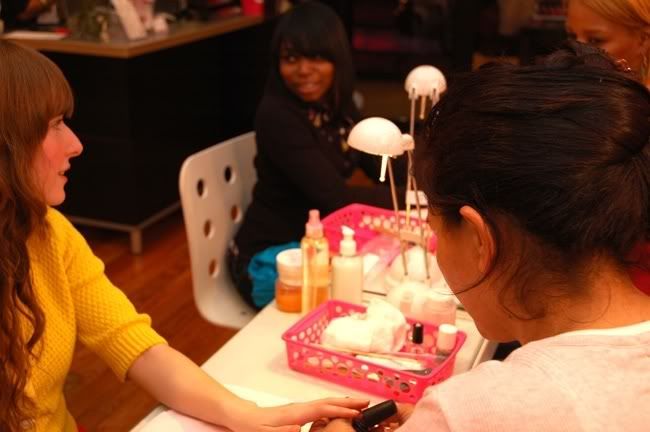 The economy plays a major role in how we manage our finances once the bills are paid. Has the "lipstick effect" had an impact on your business? If so, please explain.
When I first started out in cosmetics, our economy was also strained. I remember the cosmetic counters carried the retail business for some time. We will always move to affordable luxuries when we are forced to watch spending. Cosmetics/beauty is on the first floor of every department store for a reason –  it's consistently where business grows. Our very business model at PBB is about affordable luxury. We offer service upgrades in every category for more pampering options, but we are a place where you can come and receive a great mani/pedi, bikini and brow wax for $60 – $65. All in a clean and comfortable environment.
*Lipstick Effect: During the Depression, our country saw a phenomenon referred to as the "Lipstick Effect" which showed an increase in the consumer purchase of cosmetics, particularly red lipstick. Consumers were trying to make themselves feel and look better through small, indulgent purchases.
What has been the most gratifying aspect of owning a beauty bar?
The most gratifying thing for me, is against all the odds (and haters) I am most proud of the fact that I tried to make this happen. There is so much strength in trying. I utterly enjoy working with and around beauty and am excited by business strategies and marketing. It's a great blend for me and my personal interests. Today one of my last customers told me I was her hero and I thought, "I hope I don't ever give off that I am without fear." That would be so dishonest; I struggle to push through my fears, like anyone else. But, I know what I want, and as long as beauty and I have a love affair, I won't stop TRYING.
As we know, beauty bars, salons and barbershops are cornerstones of the community. They serve as not only a place to get pampered and rejuvenated, but also a safe haven for discussing everything from relationships to politics. CNN understands this fact and brought their cameras to PBB to hear what your clients had to say about the 2008 election. Please tell us what that experience was like:
Extremely emotional, it was days before the election and the entire neighborhood was on pins and needles.  The reporter specifically asked one question to each person: "What would you do if Obama lost?"  It was so hard to listen to their answers. Some of my most regular clients were in the store that day, and they had so much to share. I was so proud of my community, my clients, and my people. Some of the most awesome individuals live here. We've had so many cameras in that store for so many reasons, but that day I will never forget.
Photo Credit: Myrtle Shuffle
Can you give us an idea of what a day in Tricialee's shoes is like?
6:30 a.m.: Automatic Alarms – NY1 and alarms on the TV. Coffee maker on auto brew.
6:40 a.m.- Wake up, kiss the dogs and shower (my favorite part of the day).
* Most importantly: starting my day realizing that I work like a dog, but will never look like it.
It is very important for me to feel and look good, I take care of myself – no matter what!
Work mode: access weather and ensure proper staffing at locations, deal with calls outs, etc.
7:45 – 8:45 a.m.:  Dogs, breakfast at neighborhood coffee house café while plugging days tasks/appointments into Blackberry and reading beauty articles. Email follow ups. I eat a good breakfast often  – it's the biggest meal of the day.
9 a.m. – 12 p.m. –  Any combination of the following: supply orders, payroll, book keepers, bill pays, accountant, merchants meetings, yelling at contractors, running to Home Depot, answering emails every 12 -20 minutes, cleaning the store, negotiating for what I want and how I want, then any and everything from deliveries to maintenance work.
12 – 6 p.m.: Taking appointments in the store, working with customers on beauty services, beauty trends, supervising staff, and working on all development. Working on promotional calendar with front desk, taking  random phone calls from every person that wants to sell something, request a donation, or talk to the owner . Working in the store to continue to improve operations and communication while being a therapist to any and everyone who needs it today, all the while, 100% on Blackberry.
6 – 6:15 p.m.: Lunch break (Maybe…)
6:16 – 9:00 p.m.:  Finish all email follow-ups, order/shipping confirmations, Facebooking friends, talk to my partner about my day, his day & our lives. Twice a week we go out to be normal people. We both are workaholics so we try really hard to incorporate balance.
9:00 p.m. – 1:00 a.m. : Working on current marketing initiatives, next season's promo calendar, service menus, product research, staffing objectives, schedules and business reports.
1:00 a.m.: Promise myself I will get to bed earlier…
1:10 a.m. – Shower (my favorite)
1:20 a.m. – Kiss the dogs. Night night!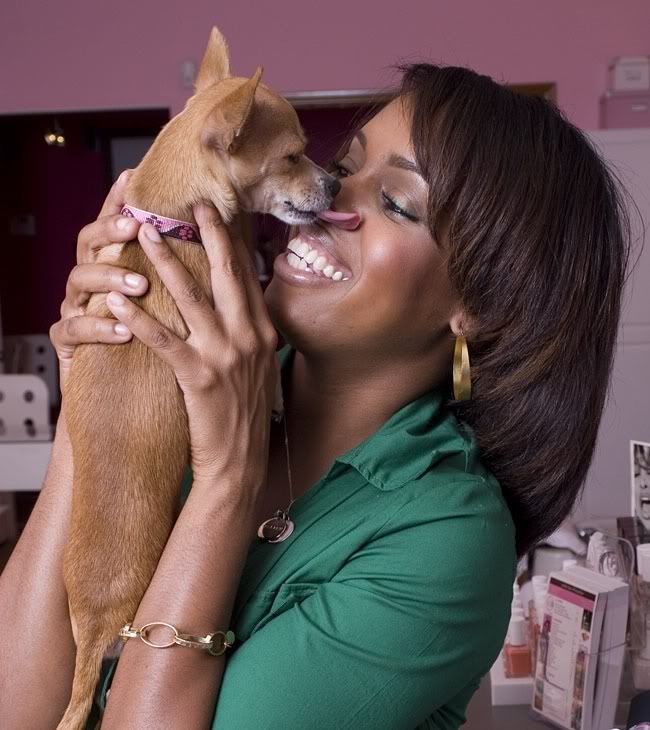 2009 is already shaping up to be an amazing year for PBB. Congrats on the opening of your new Brooklyn location in Prospect Heights! What do you contribute to your ability to expand your business during a time when countless businesses are closing their doors?
Well PBB Prospect Heights was in motion before the economic collapse. I had a choice to pull out, of course, but that wasn't what I wanted to do. I wanted to take this step. I love the Prospect Heights area and think PBB will be a wonderful addition. We have had a strong business and I do believe it will continue. Being a business owner changes you, you no longer make decisions based on fear. I looked at pros and cons when I made my decision, not on fears.
PBB is an affordable luxury at a time when people need to feel good. Truth is, I believe in my business, and my abilities. But at the end of the day, I don't define failure by a closed business, or success by a grand opening. It's about doing what you want to do, pursuing your goals and learning about yourself in the process.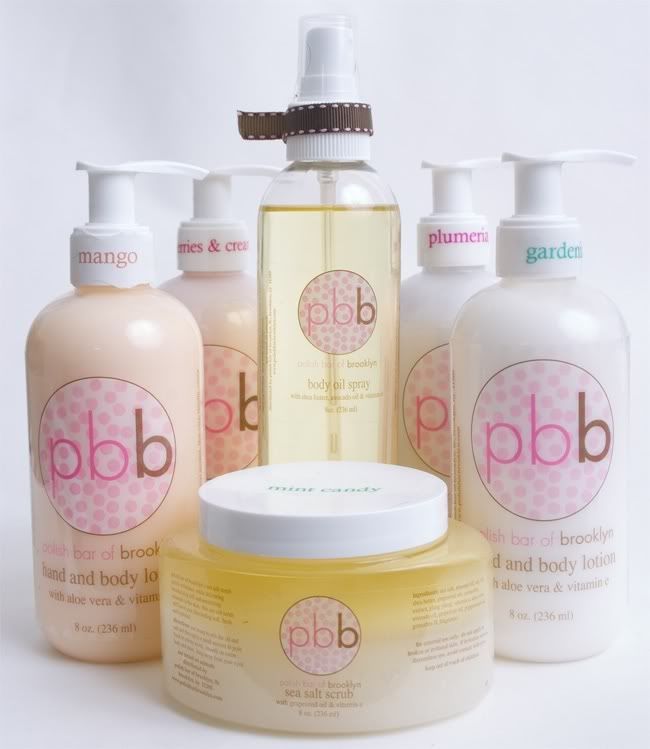 What else can we look forward to from Polish Bar of Brooklyn in 2009?
PBB-Prospect Heights and PBB-Clinton Hill are my main focuses in 2009. We are introducing new events (Sweet Beauty Parties), new service menus (Sugaring, Body Treatments) and amazing body products. Our Spring campaign is very different from anything we've ever done before, and we are very excited about it. We are tight lipped as usual, but can not wait to launch next month!
So ladies, is all of this talk of indulgence making you crave a day of pampering? Visit Polish Bar of Brooklyn's flagship location in Clinton Hill for all of your favorite spa services with a PBB twist!
Polish Bar of Brooklyn | 470 Myrtle Avenue | Brooklyn, NY 11201
For appointments and additional information please visit: www.polishbarbrooklyn.com or call 718.622.5363
If you're in the New York area and would like to hit the PBB-Prospect Heights grand opening soiree this Friday, Tricialee and her team would love to see you!