Fly Female Entrepreneurs
Fly Female Entrepreneur
By
|
Grace Tappin: Move with Grace
Welcome to In Her Shoes, Grace! For readers who are unfamiliar, tell us a little bit about Move with Grace:
We are a yoga, dance and pilates studio that teaches group and private classes for people of all ages and abilities. We offer affordable memberships and well as drop-in rates and a small boutique for apparel, candles, oils and yoga supplies. We like to keep the vibe ego-free and relaxed over here as well. The studio is also open for space rental, so there is always a workshop (like capoeira), small party, book signing, dance rehearsal or children's birthday party going on.
When did you start practicing yoga and what were your influences?
Like many casual practitioners, I didn't know much about the different types of yoga. My first taste of yoga was in high school. My history teacher was a yogi and taught us alternate nostril breathing (a balancing, calming breathing exercise) in our "current events" class. When I got to Cornell University, the stress, cold and swimming class I was required to take my Freshman year led me to try a yoga class. I was already in three dance groups and was extremely active (those hills WILL have you in good shape!) but I needed something a little more calming and I was curious. I met a yoga teacher in Brooklyn; the first Black female and elder yoga teacher (Amma) I had ever met when I came home and I was hooked! I took her early morning classes before work three times a week. She encouraged me to become a teacher and I was excited to see a woman I could relate to teaching yoga! I explored everything from Hot Yoga to Kundalini Yoga and I'm influenced by aspects of them all. I teach freestyle Vinyasa flow and adult ballet here at the studio.

When did you decide to dedicate yourself to yoga personally and professionally?
When I saw how much yoga helped just about everyone I was truly amazed. I believe that Yoga can be used to for social change… I've taught classes with all black women, or all men, or people from every different background come together to either just get a good workout or to find peace during a challenging or devastating time. Imagine New York City without a single yoga studio…
Even though I am still running a business, the rewards go beyond monetary value because students and the community value what we do. Today alone 50 less people in our neighborhood are more energized and relaxed, three people got to take some time away from the kids to take care of themselves, one person felt open and relaxed enough to find new perspective on a situation. The littlest things can make the biggest changes!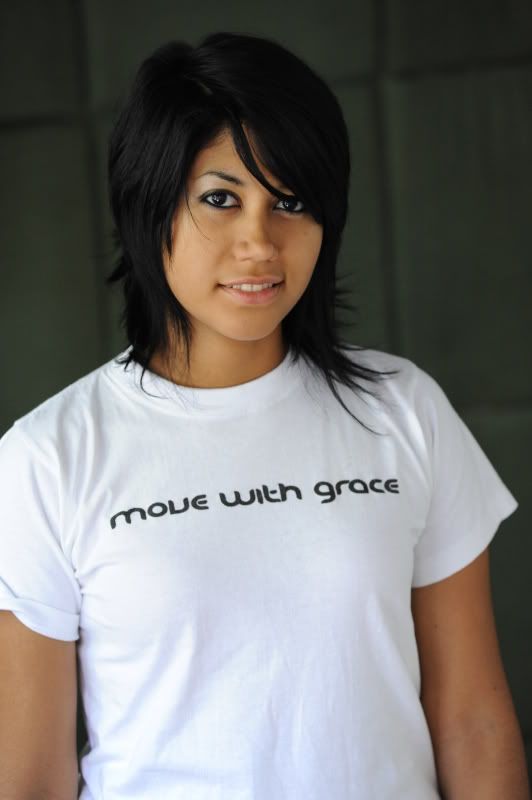 Please share with us a defining moment for you in your yoga practice.
A 16- year-old single mother who was set to go to court the day after the class sat in silence for three minutes. She stopped to observe her breath for five minutes which she may use one day in a stressful situation. A young man in alcohol and drug recovery learned the sun salutations and talked about the mind, body and breathe connection while discussing self-doubt and intuition with his peers. We all chanted "Om" as the el-train wizzed by the window, regardless of religion and experience. I teach with the Lineage Project (we teach yoga, meditation and awareness based practices to incarcerated and at-risk youth). Every time I teach a class with them, it is a defining moment. Yoga has taught me about my own judgement, perception, tolerance…and to constantly seek peace and growth.
Tell us what a day is like in Grace Tappin's shoes:
My day is usually relaxed. I'm often up early to make sure the earliest session (5:45am) is going smoothly. I head to the studio, throw on some music and begin to set the tasks for the work/exchange staff. Then I'm either prepping for classes, talking to customers, making phone calls, waving at passing neighbors and/or teaching. I'm also blogging now, so I'm able to let everyone know what's going on here the studio and beyond. My day usually ends pretty late after 10pm and then I'm at the computer to set up the emails, website updates and other marketing stuff for the following week. Once in a while I'm taking a class or attending rehearsal myself.
What do you find most rewarding about owning a yoga studio?
We're accessible and my schedule is flexible. It's a lot of hard work, but seeing students grow in their practice and feeling good after a class; talking about life, love and anything under the sun to all the amazing people I've met has made it a labour of love. As an artist, I truly enjoy the open space to do my own yoga practice or work on spontaneous (choreography) inspiration. I've been blessed with a talented staff of teachers, too! Watching my two-year-old niece enjoying early exposure to yoga and dancing makes it that much more of an inspiration to keep this going for the next generation.
How do you market your business?
Word-of-mouth is almost solely how we marketed the first two years. People bring their friends and partners to class often and the word about the classes get out. We've been featured in the newspapers, TV and local blogs quite a few times as well and I feel very blessed for that exposure! I also send out emails about our most current specials, and I'm now blogging about health, fitness, movement, music and more.
What do you have planned for Move with Grace in 2010?
We are launching the Move With Grace Challenge. I'm really excited because I'm building a team of holistic health counselors, a cleansing specialist, personal trainers and a fitness psychologist to be the support system and resource for the two challenges: A Wellness Challenge and Weight Loss/Fitness Challenge.
We'll have regular workshops on cleansing and do fasts and cleanses together as a community as well as provide a support group for those who would like to delve deeper into reasons behind unhealthy weight gain or loss. Students will be rewarded for attending their classes and staying on track!
I'm also expanding the t-shirt line and would like to design a child-labor free, organic activewear line for the Move With Grace brand.
Maybe a yoga retreat to the Caribbean? There's much more, but I'm a Scorpio and I guess I have to keep some stuff to myself!
Is there anything else you'd like to add?
Yes! We also have community donation based classes. The suggested donation is $10, but you can give what you can and the money goes to our efforts to provide free and low-cost yoga classes to cancer survivors.
Move with Grace is located in Clinton Hill, Brooklyn at 469 Myrtle Avenue between Washington and Hall. Visit www.movewithgracestudio.com for more information and find a yoga class that works for you!