In Her Shoes Home
Who is Nzinga Knight?
By
|
Nzinga Knight is an uber-talented Muslim eveningwear designer on the rise.  Her approach to design utilizes couture techniques to create a synergy between the Islamic dress code and traditional American style. She's described her work as "coming from a place of creativity, thoughtfulness, elegance, beauty and spirituality." I've got to say, I'm pretty impressed by this lovely lady's tenacity and resourcefulness.
Today's weak economy has been like a blessing and a curse to small businesses. Lack of stability in Corporate America almost forces folks to consider self-employment options. Now you have this increasingly popular entrepreneurial spirit but lack of funding/bank loans to get ideas off the ground. Determined to work around these perceived challenges, Nzinga has tapped into local resources to bring her dreams to life!
As winner of 2008 PowerUp Business Plan Compeition, Nzinga was awarded a $5,000 grant from the Brooklyn Business Library and Citibank. In addition to the grant, she received $3,000 worth of in-kind business services.
Nzinga's participation in the PowerUp Business Plan Competition was not her first attempt to win the prize so aside from being a resourceful business woman, she also gets an "A" for determination. She threw her hat in the ring for the first time in 2006 to no avail, but didn't allow this to discourage her. Can you say "persistence pays?"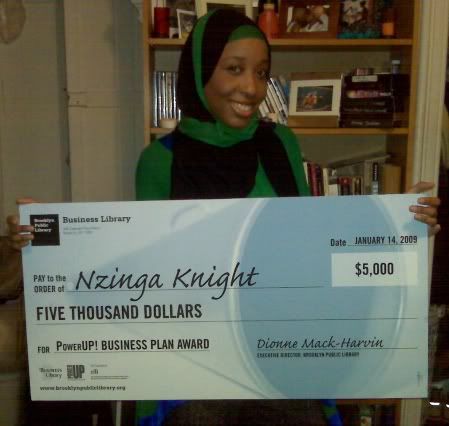 "As a finalist I had the task of  creating a visually and orally compelling 10 minute Powerpoint presentation of my business plan which I then had to present in front of 18 judges, industry professionals, business owners, loan officers and the like. These judges had all previously read my 20+ page business plan (that I had created, researched etc. over two years).
Creating a presentation was a great challenge since I had never used Powerpoint before. I had to summon upon my graphic design skills as well as my oratory skills in order to make my business plan come to life for these judges, not to mention that I had to learn this new program…which wasn't too tough. I held two mock presentations days before I would hit center stage, one at the business library in the room that I'd be presenting in and the other at my home. With the help of my diverse group of friends, a few fashion designers, and some in corporate America, these mock presentations were invaluable."
What I love is how the media continues to gravitate towards Nzinga's amazing story. Check her out on WABC's New York View Point:
As a recent graduate of Brooklyn's highly-acclaimed Pratt Institute, Nzinga has been on a mission to present her work to the world. In December of 2008 she shared her talents in a thought-provoking exhibit, "Fashioning Islam in America" at Brooklyn's Skylight Gallery. In this multi-media exhibit, Nzinga's work was exposed to some of city's most influential movers and shakers.
"It is about empowering women to be beautiful without compromise. After all…it is my view that women are smarter than showing their cleavage to a bunch of strangers."
For additional information on Nzinga Knight International click here!