Check On It
Warm it Up!
By
|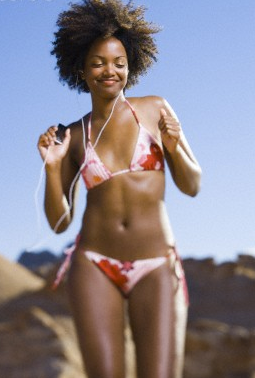 I'm a summer baby through and through. I was born in the summer (Virgos stand up!) and have realized over the years that I just feel better when I'm wearing less clothing (minds out the gutter), my toes are free, and I'm being kissed by the sun! I'm sure I'm not alone. We all know that warmer temps and sunshine are good for us – but do you know how good?
According to a study entitled, "A Multidimensional Approach to the Relationship Between Mood and Weather," the psychology of weather is more important than most of us think, affecting our moods and outlooks in substantial ways:
"Humidity, temperature and hours of sunshine had the greatest effect on mood. High levels of humidity lowered scores on concentration while increasing reports of sleepiness. Rising temperatures lowered anxiety and scepticism mood scores. The number of hours of sunshine was found to predict optimism scores significantly. As the number of hours of sunshine increased, optimism scores also increased."
As a woman who's contemplated slitting her wrist each February after months of frigid temps and super early sunsets (kidding!), I can definitely co-sign on all of the above. I live for flip flops and high heeled sandals. I'm obsessed with my summer dress collection. And there's nothing like brunch outside with my girls on a sunny afternoon.
If you're in the New York area, I've got a special treat for you! After chit-chatting last night about how amazing this Spring/Summer is going to be, my girl Robyn (founder of the super cute hair accessories line, B'elle D'blo) sent me a list of all the fly NYC spots we'll be hitting up now that the weather is starting to break. Take copious notes!
Great Date Restaurants:
Barmarche  (NoLita)
Elizabeth (NoLita)
Go on Mondays for their $25 prix fixe dinner. Plus they have an amazing indoor garden with seating where the roof opens up in the summer!
Delicatessen (Soho)
Great for people watching and checking out the scene.
Ill Buco (Noho)
Sexy rustic Italian. Great food and wine.
15 East  (Union Square)
The best sushi in the city but definitely expensive. Make sure you sit at the sushi bar and get the total experience with the chef Matsa.
The House (Gramercy)
Super romantic and cozy. It's an old carriage house with very classic vibe. Kinda pricey but great for appetizers and wine at the bar.
Places to Visit:
P.S. 1/MoMa in Queens
The summer warm up series is awesome: Live DJ's, BBQ and beer merge with an outdoor courtyard adjacent to the museum. Very diverse/eclectic crowd. A serious outdoor dance party!
The Highline
Elevated park from Gansevoort in the Meatpacking District to 34th Street between 10th and 11th Avenues. Great for walking, biking, or just a romantic stroll with someone special.
Central Park
The ultimate date spot in the city when the weather warms up. Perfect for an afternoon picinic or sunbathing.
The Natural History Museum
Fun, fun, fun!
ICP (The International Center of Photography)
Great inspiration for the aspiring photographer.
The New Museum
Amazing exhibits that feature a lot of young new artists. Great location: Bowery downtown near Soho and LES.
Needless to say, I'm beyond ready for the warmer temps! Winter, it was nice spending time with you…again. I hate to see you go but LOVE to watch you leave!
So tell me, what is it about the Spring & Summer months that make your heart skip a beat?