In Her Shoes Home
Ty'Sheoma Rocks!
By
|
Like the rest of the country, I was glued to the television and mesmerized lastnight during Obama's first speech to a joint session of Congress. B.O.'s intelligence, swagger, and ability to rally the nation made me truly proud to be an American. 
While Obama did a great job of captivating his audience, I couldn't help but be distracted by the little chocolate girl in the purple dress sitting next to The First Lady. Who is she? She's not Sasha and surely isn't Malia, so why is she chillin' next to Michelle like she belongs there?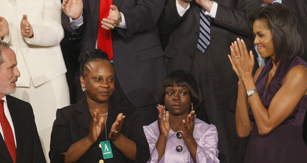 When President Obama finally introduced this young lady and shared her story I had to hold back my tears. How awesome is it that as an eighth grader from Dillon, South Carolina, Ty'Sheoma Bethea had the gumption to write a letter to lawmakers appealing for help to rebuild her school?  In a time when many young girls are getting the latest scoop on Chris Brown & Rhianna's drama but not getting good grades, this little lady is clearly cut from a different cloth. Ty'Sheoma Bethea received one of the evening's most rousing ovations, yet she didn't say a word.
Can you imagine how empowered little Ty'Sheoma felt knowing that her letter made it to President Obama's desk and truly mattered? The moment she received that invitation from the White House and boarded her first plane to attend the speech will be lifetime memories.
From the mouth of babes:
"We are just students trying to become lawyers, doctors, congressmen like yourself and one day president, so we can make a change to not just the state of South Carolina but also the world," Obama read. "We are not quitters."
– Ty'Sheoma Bethea
While some may argue that Ty'Sheoma is being used as the face of President Obama's stimulus bill,  I prefer to look at her as a symbol of hope.  Ty'Sheoma, thank you for your leadership and demonstration of  fearlessness.
I can't wait to see where Ty'Sheoma is 10 -15 years from now. I see a future fly female entrepreneur in the making…don't you?