Fly Female Entrepreneurs
Fly Female Entrepreneur
By
|
Tina Shoulders: Laid Back
Two years ago I had the pleasure of "e-meeting" Ms. Tina Shoulders of Laidback – the go-to brand for head-turning pillows and bedding. As a savvy online marketer, Tina utilized the social networking community, Myspace, as a vehicle to reach her target and build relationships with fellow entrepreneurs. I loved her products and really liked her hustle so when the opportunity came for us to collaborate, I reached out ASAP.
Laidback provided the finishing touches for an event my company worked on with Courvoisier and recording artist, Musiq. Tina came in, did her thing and even snagged several potential clients (including Musiq) in the process. Although Myspace is a guilty pleasure of the past, I'm proud to say that my association with the uber-talented Tina Shoulders is not. 
Fast forward to late 2008. I'm in my office and brainstorming for my newest endeavor, In Her Shoes. The list of fly female entrepreneurs I wanted to interview was short at the time but trust me, Tina was one of the first women who came to mind!
Tina laid back with In Her Shoes on a chilly winter evening to chat about her increasingly popular lifestyle brand and where she's taking it '09. Here's what she had to say…
In Her Shoes: What were you doing before you launched Laid Back and how did the brand come to be?
Tina: Before the launch of Laidback I was working primarily as a freelance textile and graphics designer in the fashion industry. One day I consulted on a home furnishing company's design project and immediately fell in love. I was doing private label design for stores like Restoration Hardware and Bloomingdales but it was fashion forward and not edgy. I then started daydreaming about home design that had real swagga, skulls, color, Hip Hop style, and edge. I wanted something for people to talk about in my home, and realized that I needed to create it.
In Her Shoes: In my opinion, decorative pillows have always been the missing link, the accent that ties a room together.  What ignited your passion for pillows and when did you decide that they would become the staple item for the Laidback brand?
Tina: Pillows are like the t-shirt in fashion. They can be dressed up or down but they are always comfy.  Pillows can go just about anywhere and most times they can spark a conversation…well, at least that's what I think of my Laidback collection. I wanted to create something for when that guy or girl comes over for the first time and there is that awkward moment.  Dude can check out your pillows and say "oh shit that's a record? That's kinda hot!" I know it seems "extra"  but I've heard the most random people comment on my designs and that's what it's all about!
In a nutshell, I love the pillow. It's a great entry point and less expensive than a complete bedding set, so it just works. Pillows will always be the soul of Laidback.
In Her Shoes: How does your work reflect your style and personality?
Tina: I am the official laid back chic: not overdone, a bit edgy, free-spirited. I march to the beat of my own drum and am smart (cracking up)! I'm a t-shirt and jean, converse-clad chic, love to be comfy yet stylish in my own way kind of chic. I love the rocker chic look that is a bit undone. Laidback pillows are an expression of my designs –  comfy and cool.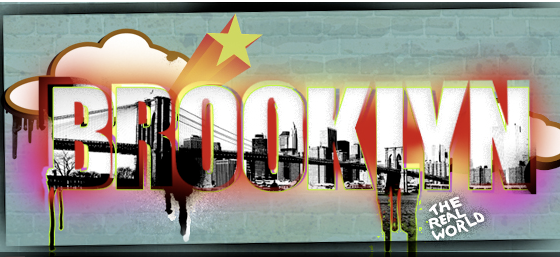 In Her Shoes: What Laidback achievement are you most proud of?
Tina: I am very excited about my designs being a part of MTV's "The Real World Brooklyn" set. I even get a credit on the show so this is an amazing experience for me. It keeps me hopeful of bigger and better things to come! 
In Her Shoes: I've noticed that a lot of people truly invest in how they present and accessorize themselves but when it comes to their home, it doesn't always add up. Why would you say that it's important to take pride in your personal space?
Tina: Your personal space is a refuge on so many levels. When you come home weary and beat up from the world you need the warmth and comfort that comes from home. It also reflects how you care about your family and friends as you're also giving them a place to get away from it all.  The funny thing is I love to be out, but when I get home I want to feel happy and at peace. When someone comes over I want them to feel good and inspired.
In Her Shoes: Describe a day in Tina Shoulder's shoes…
Tina: My day starts at about 7 a.m. I get my son ready and off to school by 8 a.m. and hop in the shower. By 8:30 a.m. I'm on the phone, answering emails, reading Twitter feeds, and checking out my daily design & news blogs. I spend the bulk of the day online – researching, thinking up designs and strategizing. If I'm working on new concepts and designs I shut off the email and Tweets. Once I become accessible again, I begin to return missed calls.
In the afternoon I may run to the city to source denim and notions. I work until about 6 p.m. and try to go to a meet-up, networking event or seminar atleast two nights a week. I teach at FIT (Fashion Institute of Technology) one or two nights a week depending on the semester. I hang with my son for bit, go over his homework then get back to work until about 2 or 3 a.m.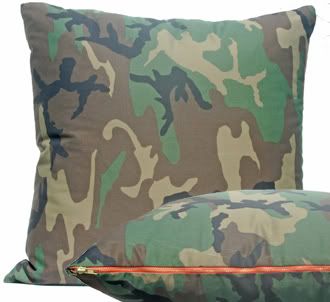 In Her Shoes: What are the top five things (or people and experiences) that inspire you most?
1. I am of course inspired by Obama for even having the audacity to say "I'm running for President of the United States of America."
2. Marc Ecko preparing to file bankruptcy and bouncing back, that's gangsta!
3. The single mom who holds down two jobs and still manages to spend time with her children and raises them to be a respectable man or woman.
4. Dreamers that are doers. I love when people have a dream and hustle to bring it to fruition.
5. Creatively I'm inspired by good music, graphics, street culture, Trishia Guild, and dope textiles.
6. (I know you said 5 but…) My son inspires me to be better. I'm committed to showing him that anything is possible if you hustle.
In Her Shoes:  What types of marketing strategies have been most successful for Laidback and why?
Tina: Social Media and online social networks have been amazing.  I don't utilize Adwords or anything, however, just being a member of communities like Facebook, Myspace, Twitter, and Linked In have been perfect for building relationships. Social media is all about transparency; people want to know the person behind the brand, down to what I eat, what I like, and where I go. This is what builds brand loyalty!
In Her Shoes: What are you looking forward to in 2009 – both personally and professionally?
Tina: 2009 is going to be great! 2008 was about laying the groundwork so 2009 is about building. Professionally, I anticipate some great collaborations and retailer outlets working with Laidback. I will also be launching a lifestyle and culture web show as well as the launches of the aforementioned duvet and loungewear collections.
Personally, I plan on going on vacation for the first time in four years and while we're at it, I must admit that the Laidback chic is open to love. It's time for the laidback chic to find that laidback brother…
Tina, I'm a firm believer of speaking things into existence so I'm definitely going to check back in with you on that one!
To learn more about Laidback or spruce up your space with one-of-a-kind pieces, point, click and browse here.