In Her Shoes Home
The Art of Staycationing
By
|
Note: Last year, when I probably only had like three readers, I wrote this post on finding cool things to do in New York City should your budget not allow for globetrotting. Instead of reinventing the wheel, I decided to publish this piece again. It's like that dress you wore out one night when you ended up doing a bunch of…nothing! It felt like a waste right? So what did you do? You pulled that dress out again to get the proper mileage out of it!
Check out all of the fun and inexpensive things to do in NYC this weekend. Have a fun & safe Memorial Day and remember, make it memorable!
Well ladies, Memorial Day weekend, or what is otherwise known as the official start of vacation season, is finally here. For some of us, this means we're even closer to that fabulous trip we've been planning for months. We're preparing to escape to some faraway, exotic place for a few fun-filled days of rest and relaxation. For the rest of us, given the current economy, that trip might have been postponed or canceled altogether. If you're self-employed, you've already told your clients about your much-needed time off. If you're a 9-5'er, you requested the time from work weeks ago — so, now what are we going to do with these free days? Enter the staycation.
Now before you start belly aching and saying that a staycation isn't a real getaway, allow In Her Shoes to present another possible perspective: experiencing your city through the eyes of a tourist may actually feel exactly as good as a real vacation — and by the end of your "trip," you might end up with a photo album that sheds a new beautiful light on the place you call home. Besides, if you're like me, you very rarely explore what your city has to offer a visitor anyway. Since I live in Brooklyn, I thought I'd share my tips on how to plan a New York City staycation, with images and recommendations from the Big Apple. Let's do this!
Central Park
This lovely historic park has been featured in over 200 films, occupies 843 acres of land in the heart of the Big Apple, and offers a peaceful refuge from the hustle and bustle of city life. It's right under our noses, yet many New York City residents (including myself) don't really take full advantage of the park's beauty. To be honest, I rarely visit Central Park outside of the amazing (and free!) Summer Stage Concert Series I look forward to each year. With activities like a romantic stroll along the Mall, carriage rides, a walk around Strawberry Fields, and a visit to the Children's Zoo, Central Park is the perfect inner city oasis!
Studio Museum of Harlem
Studio Museum of Harlem: Kehinde Wiley Exbibit
Since opening its doors on Fifth Avenue and 125th Street in 1968, the Studio Museum has earned recognition for its catalytic role in promoting the works of artists of African descent. The Studio Museum's permanent collection contains over 1,600 works, including drawings, pastels, prints, photographs, mixed-media works and installations. It is comprised of works created by artists during their residencies, as well as pieces given to the Museum to create an art-historical framework.
The Studio Museum's ongoing series, Harlem Postcards, invites contemporary artists of diverse backgrounds to reflect on Harlem as a site for artistic contemplation and production. Popular Harlem landmarks such as the Abyssinian Baptist Church, Apollo Theater, Hotel Theresa, Audubon Ballroom and 125th Street are showcased throughout the Harlem Postcards exhibition. Installed in the Museum lobby and available to visitors, Harlem Postcards presents intimate views and fresh perspectives on this famous neighborhood.
South Street Seaport
The South Street Seaport is a located in downtown Manhattan where Fulton Street meets the East River, and adjacent to the Financial District. It features some of the oldest architecture in downtown Manhattan, and includes the largest concentration of restored early 19th-century commercial buildings in New York City. This includes renovated original mercantile buildings, renovated sailing ships, the former Fulton Fish Market, and tourist malls with great food, shopping, nightlife, with a pretty awesome view of the Brooklyn Bridge.
Top of the Rock
Where do I start? Unobstructed views for 360 degrees from the 70th floor, the breathtaking landscape stretches for miles in every direction from Central Park and the northern half of Manhattan to New York City's other landmarks including the Chrysler Building, Times Square, the Hudson River, the East River, the Brooklyn Bridge, and the Statue of Liberty. It's open 365 days a year, offers an astonishing perspective of the city that never sleeps, yet after 8 years of living in New York City, I must sadly admit that I've never visited Top of the Rock. This. Must. Change!
New York City Helicopter Tours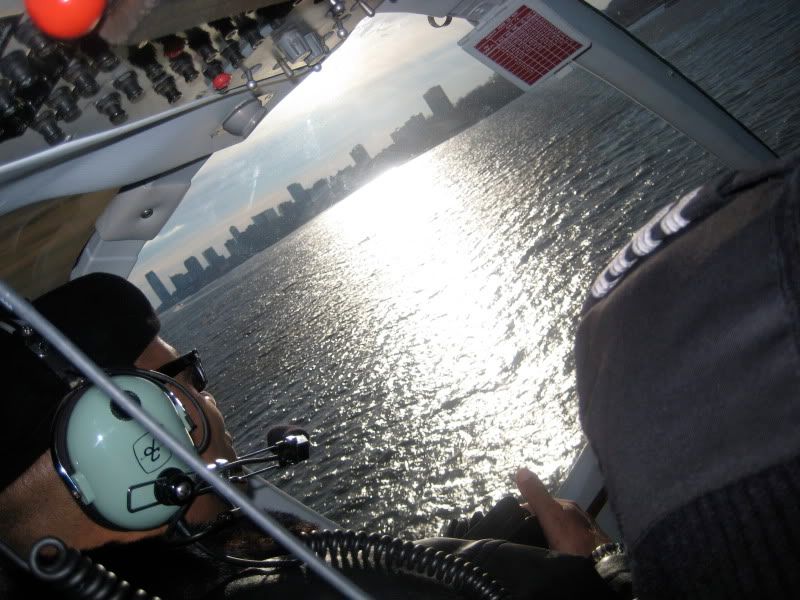 Dad Enjoying a New York City Helicopter Tour
This option is pretty much considered cheating but I'm going to be easy and offer it to you anyway. I experienced my first New York City helicopter tour last year with my dad and sister and it left me speechless! Sure, we all know that we live in an amazing city but seeing it from an up-close-and-personal aerial view gave me a new found respect for Manhattan's architecture and landscaping. There are countless companies that provide NYC helicopter tours but I highly recommend Liberty Tour. We took the "New York, New York" tour which begins down the Hudson River, Manhattan's Financial District, Woolworth Building and Ellis Island, allowing for a birds-eye view of the Statue of Liberty, Governors Island, and the Verrazano Bridge. It then returns up the Hudson to view Midtown's famous skyscrapers: Empire State, Chrysler and Met Life (Pan Am) Buildings, along with Central park, Yankee Stadium, St. John the Devine Cathedral, Columbia University, George Washington Bridge and the Palisade of New Jersey.
So, now that you've enjoyed everything that New York City has to offer, you can go back to your Monday through Friday grind rejuvinated! The bonus: you'll realize that you're probably more relaxed than if you had traveled (no nightmare airline stories) and you'll have renewed appreciation for this beautiful city we live in!