In Her Shoes Home
Out About Town
By
|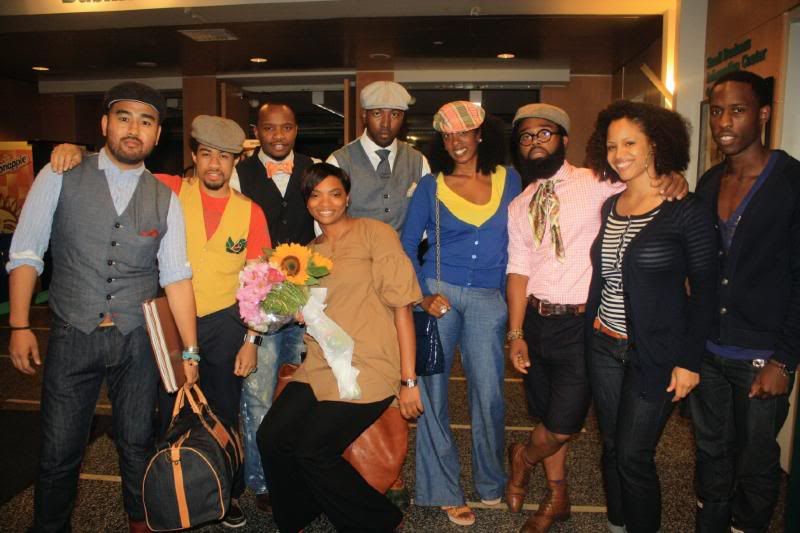 Renae of In Her Shoes & the Brooklyn Circus family
Last Tuesday The Brooklyn Public Library hosted "Young & Crafty," an engaging discussion that highlighted three talented Brooklynites who turned their creativity in profits. The guest speakers were Ouigi Theodore of Brooklyn Circus, Erin Carney of Brooklyn Creative League and Joe Bukiewicz of Cut Brooklyn. Despite overcast skies and downpours of rain, the event garnered an impressive crowd of men and women, both young and old, who were determined to absorb as much wisdom as possible from the successful entrepreneurs.
I may be a bit biased but I've got to be honest…Ouigi Theodore of Brooklyn Circus was definitely my favorite speaker of the evening. With humor, charisma, and tons of sincerity, Ouigi shared stories of obstacles he faced while working diligently to build the Brooklyn Circus we all know and love.
With an amazingly fly and welcoming staff to decor and inventory that marries streetwear and vintage with a Ralph Lauren twist, the Brooklyn Circus concept is beyond impressive. As their tagline so eloquently states, "Experience is everything!"  If you're in the New York City area and haven't visited Brooklyn Circus yet, shame on you.  I'm gonna need you to add BKc to your to do list ASAP, folks!
Following are a few pics from last week's event. Check 'em out, enjoy, and make it a great day…
Young & Crafty Panelists: Joe Bukiewicz of Cut Brooklyn, Ouigi Theodore of Brooklyn Circus, Erin Carney of Brooklyn Creative League
Ganeka Gray of Clutch Magazine & friend
Keisha Massop of Mass Accessories
Kinna LeBlanc of Closet Jane and guest
Ouigi Theodore of BKc Dropping Jewels
Mr. YakBlak Paying Close Attention