Fearless One
Ladies First!
By
|
Va$htie Kola
New York-based artist, Va$htie Kola, has got to be floating on cloud nine right about now. After remaining silent as internet rumors brewed, Va$htie officially announced this week that she was selected to be the first woman ever – yes, EVER –  to design a sneaker for the highly-respected Jordan brand.
While many uninformed gossip bloggers like to define her as simply being Pharrell's ex-girlfriend (hate this), the truth of the matter is that Vashtie is a multi-talented lady who flexes her creative muscles across several very competitive industries. A true force to be reckoned with, this Trinidadian beauty rocks many hats including, but not limited to…
Video Director: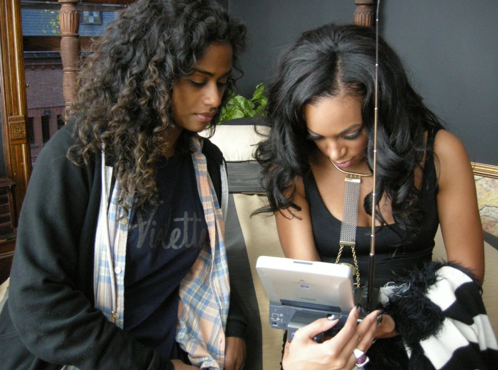 Va$htie directed one of my Solange favorites, T.O.N.Y.
Va$htie strikes a pose with Justin Beiber on the set of his video, "One Time"
Designer/Creator of the Violette line:
Violette by Va$htie
Event Producer:
Va$htie produced the iconic "1992" party series with best friend, Oscar Sanchez. In 2008, "1992" was nominated for Best Party at the Paper Magazine Nightlife Awards and also received a style feature in The New York Times.
Keep an eye out for my fellow Trini because she's definitely one to watch!
To learn more about Va$htie Kola visit www.vashtie.com.