Fly Female Entrepreneurs
Fly Female Entrepreneur
By
|
Autumn Merritt: Solemates Chicago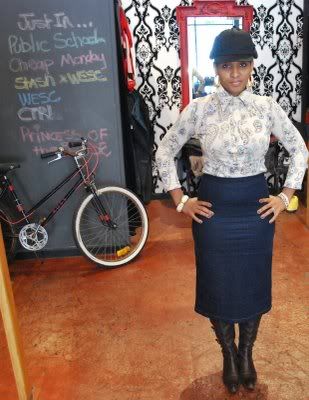 Have you ever walked into a boutique and it felt like home? From the warm decor to the cool and friendly staff – everything about the experience was simply on point? Well those were my feelings the moment I walked into Solemates Chicago for the very first time. The boutique's design is Ralph Lauren meets sneaker culture and urban edge but through it all, a woman's touch is very prevalent. The woman's touch I'm referring belongs to none other than Mrs. Autumn Merritt, co-owner of Solemates Chicago. Having lived in Chicago for many years, I must say that I was happy to see the city's development in the retail space and even happier to see a young, black (and super cute) couple leading the charge! In Her Shoes caught up with Autumn recently for a great conversation about Solemates, her soulmate, and retail business in the Windy City. Here's what she had to say…
In Her Shoes: Tell us a little bit about yourself and Solemates Chicago
Autumn: I am Autumn Merritt, a boutique owner and wardrobe stylist with a background in marketing. I obtained my degree from the fashion mecca that is Howard University, in 2004. Upon finishing school, I moved back to Chicago and worked in event planning, retail sales/management, buying and wholesaling. In 2006, I married my husband & business partner then sailed off to Fiji to live happily ever after. Just kidding! We stayed in Chicago and just six months after marriage, we had our first child – a men's and women's clothing and sneaker consignment boutique named Solemates Chicago. She'll be two years old in July.
In Her Shoes: How did you and your husband come up with such an appropriate, yet creative and captivating name for your business?
Autumn: Identifying a name was definitely a challenging task. After a few doosies, Brian came up with Solemates Chicago and it was just right! It captured everything we were going for and totally represented our union.
In Her Shoes: When I lived in Chicago almost eight years ago, eclectic concept boutiques like Solemates were few and far between. How would you say the fashion scene has changed in the Windy City over the past decade and what do you predict for the years to come?
Autumn: I was just having this conversation last night! The scene has definitely changed in Chicago over the past few years, especially amongst our age group. With people being exposed to more culturally, Chicago has become more progressive. It's reflected in the streets, the boutiques and just the way of life. We just aren't your conservative Midwest City. We are growing and becoming more accepting of the differences in us all – which ultimately influences our personal style. Although Chicago is still segregated as all get out, we are slowly making moves to cross the lines.
For the future I see continued growth for the Chicago fashion scene. People have found their entrepreneurial spirit, and have realized that if you can't find it, you have to create it for yourself and others to enjoy.  I'm a huge advocate of keeping all of our freshness here! The more creative the minds are here, the better the scene. We have to make it happen in our own backyard- then we can do the commuting!
In Her Shoes: I'm loving all of the unexpected collaborations we're seeing in the fashion industry these days (i.e., Alexander McQueen for Target). Which brand would you like Solemates to partner with that your clients would never expect?
Autumn: Hmmm…since we're preparing for the launch of our private label, I think a collab with The Sartorialist would be dope and super unexpected.  I love the images he captures as he street walks and needless to say, he obviously has a great eye for style. It would be interesting to see what we could create together.
In Her Shoes: Which streetwear trend can you live without?
Autumn: I've got to say the expletive-ridden tee shirts. They're just plain tacky, no getting around it. Grow up and be a lady or gentleman!
In Her Shoes: What is a day like in Autumn Merritt's shoes?
Autumn: Nonstop! On any given day, I am in the store writing orders, helping clients, training employees or consulting with Brian about our next move. On any given day, you can find me wardrobe styling a campaign, photo shoot, appearance or fashion show. Or any given day, you can catch me coordinating events for a local restaurant, halfway assisting people plan their weddings! Not my full cup of tea, but it's only part-time and paying the bills…thank God!
Then, between all of this, I love to spend time with the man, family and friends, thrifting, and finding new restaurants.
So needless to say with all of this running around, I love my shoes to be hot and comfortable! But lucky for me, I can incorporate all styles into my wardrobe. These Proenza Schouler's would definitely work on a boutique day. Hey, they're so bad and expensive they will have to work every day!
In Her Shoes: What strategic steps are you taking to ensure that Solemates remains top of mind during a time when consumers are cutting back on spending?
Autumn: One thing we stand strong on at Solemates is our genuine approach to people. Our clients know that nothing is ever forced. We appreciate the fact that people support our business – and buying an item is not the only way to support. In these tough economic times some people just come in to say hello and that means a lot to us. We are on their minds, so we know that when it comes time to buy, Solemates will be in the lineup.
In regards to staying at the forefront from a more strategic standpoint, we of course have our blog, which allows us to connect with our clientele on a personal level. It really helps them stay informed.
We also plan intimate shopping events where you just come and have a few drinks, socialize and shop. Nothing too intense, but just a way to say thanks and show that we enjoy the patronage and company of our customers and friends.
In Her Shoes: From Barack and Michelle to Will and Jada, In Her Shoes is more than happy to see shining examples of power couples in the black community. How have these couples inspired you and Brian to take over the fashion industry as we know it?
Autumn: They really show the beauty in accepting your partner on another level. It's not too often you find power couples working within the same field, but when you do and they are making it work, it's great inspiration. It's tough work, but it makes you appreciate the other so much more. When it's right, it makes your relationship stronger. I love it.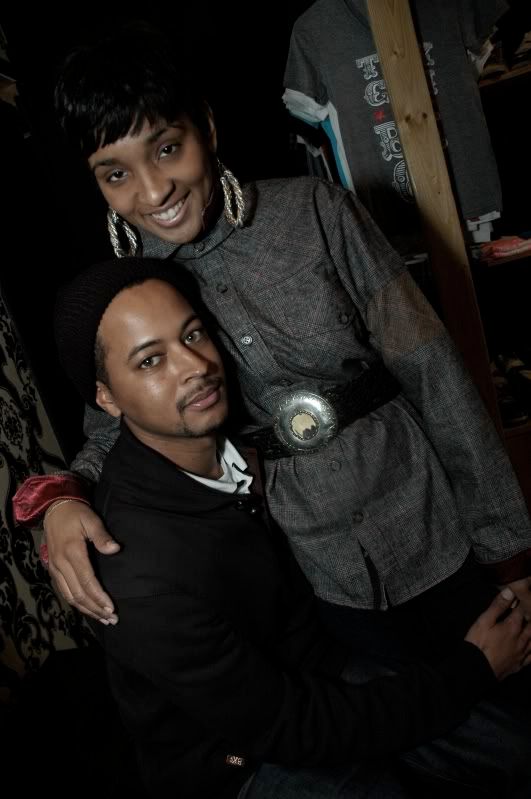 In Her Shoes: What words of wisdom would you give to aspiring entrepreneurs with plans to go into business with their husbands and/or significant others?
Autumn: Make sure that you are up for the challenge. In order to be successful, you'll both need to bring your distinct qualities to the table. It's not good for you to agree all the time because when that happens, one party is not in it 100%. It is important to balance out, yet build each other up at the same time. When you have balance, you have a recipe for success and ultimate happiness.
In Her Shoes: As a Brooklyn resident, I can personally attest to the outstanding impact that your affiliate, Brooklyn Circus, has had on New York City's fashion scene. How has this relationship elevated your business and what can we expect from this dynamic duo in '09?
Autumn: Agreed. Our relationship with the Brooklyn Circus has been a blessing – both the business and the friendship. Through the Circus we have been able to expose their massive following to our brand and in turn we have helped them penetrate the Midwestern market. Our meeting was perfectly timed, and the relationship will continue to flourish in the years to come.
In 2009, you can expect more growth from Solemates. In the upcoming weeks our site will relaunch as an online store, which has been such an arduous task. Loading all the product has been challenging but I can't wait to get the site up!
We're also looking forward to the launch of our private label along with a few collaborations. We might also take a little dive into his and her leather accessories and housewares.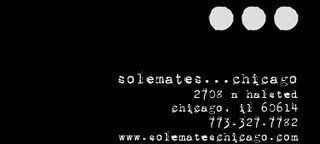 If you're in the Windy City or have a trip scheduled soon, add Solemates to your must-do list and pick up a few hot pieces for Spring! To check out the Solemates blog (which I must say, is quite engaging) get to clicking here!