Fly Female Entrepreneurs
Fly Female Entrepreneur
By
|
Tara Guillaume: flauci
When I interviewed today's Fly Female Entrepreneur, a Haitian pet boutique proprietor, I would have never guessed that just days later, her home country would be in such turmoil and distress. I'm a firm believer in the fact that nothing happens out of coincidence in God's universe. That said, I'm honored to bring to you Haiti's own, Tara Guillame, Fly Female Entrepreneur of the week…
In Her Shoes: Prior to launching flauci, The Pet Beauty Shop, you spent time at several magazines including: CosmoGirl, Seventeen, ELLEgirl, Men's Vogue, and Domino Magazine. How did your career in the publishing industry prepare you for entrepreneurship?
Tara Guillaume: As a marketer for consumer publications, I was required to manage programs from concept to execution. Not only did I work with a team to come up with "big ideas" for advertisers, but I was also responsible for pitching the idea, creating and managing a budget, and finally, assembling the program in preparation for execution. More importantly, I was responsible for compiling the results of any given program, and making recommendations for how to improve it or expand it for the new business cycle. All of this work was done to achieve one core objective: increase conversions, whether it's sales, acquiring customers or increased market share. As an entrepreneur, I'm required to do these things daily, but with a smaller budget. I still have to make the ideas and numbers work, which ultimately results in increased conversions for flauci.
In Her Shoes: As a fellow dog owner, I fully understand the role that pets play as part of our extended families. While I believe in pampering my pup, I've seen a lot of pet owners take it a bit too far. What's the craziest experience you've had with an "over the top" pet owner?
Tara Guillaume: The craziest experience I've had with an "over the top" pet owner is when a customer revealed that she purchases Sexy Beast Fresh, a high-end finishing spray for dogs, primarily for herself because she constantly receives compliments when she wears it! I laughed so hard that I fell out of my chair. She continued telling me that she accidently sprayed it on herself when she was grooming her two large dogs, and has been "wearing" it ever since. Rather kooky, but die-hard pet parents like her make my business successful.
In Her Shoes: What was the biggest obstacle you've had to face as an entrepreneur and how did you get over it?
Tara Guillaume: Figuring out how to attract and retain customers is my ongoing struggle as an entrepreneur of a pet-beauty retail site. While I had a challenging time trying to design and build my site, I never quite realized that the hardest part of starting a business is maintaining it. I thought that because I was solving the problem of housing grooming products in one retail location that customers would naturally come. Unfortunately, this is untrue. As a business, I have to compete for the attention of my customers. I have to constantly invest in acquiring and keeping my customers. My research never revealed to what extent acquiring and keeping customers could cost.
In Her Shoes: What is a day like in Tara Guillaume's shoes?
Tara Guillaume: Currently, I'm assembling our early spring catalog. So I've been dedicating all my days to getting everything done and printed by end of January 2010. Right now, my day consists of sourcing products appropriate for the spring season, speaking with sales reps and owners of different brands, laying out the catalog, writing copy, developing sales promotions for the catalog such as sweepstakes and e-blasts, creating seasonal merchandising plans, designing a special section on the site for the catalog items, coding the sourced products, reading trade and consumer publications for info and inspiration, and so on. My job is never-ending. Since the main portion of my business is online, it's important that I stick to tight deadlines and turnaround times. But as you see even though I work from home, I still manage my day as if I'm going to a job.
In Her Shoes: I love that your website features multiple, user-friendly, online shops. What are some of flauci's biggest selling items?
Tara Guillaume: Thanks! I worked hard to make sure that the site was easy to navigate from the perspective of a customer rather than mine. Keeping the site simple allows more time for customers to browse and eventually buy products. The biggest selling items I have on the site right now are in a three-way tie: farfetched Soggy Dog and Soggy Paws drying towels, Pet Head by Bed Head TIGI bathing products, and Little LuLu's Fish and Chips Cat Treats by Robbie Dawg (featured in the 2009 Holiday Pet Gift Guide in Life & Style Weekly). The great thing about an online boutique is that I can continually introduce new brands and products.
In Her Shoes: If you could describe the quintessential flauci pet in three words, what would they be?
Tara Guillaume: "Furry, four-legged child" are the three words that best describe the flauci pet. Flauci customers are pet parents who spare no expense for the "functional pampering" of their pets, spoiling them as one would a favored child. They consider their pets to be family members and enjoy lavishing them with special food, clothes, accessories, and grooming rituals, just as they treat themselves to beautiful clothes, grand homes, premium cars, and quality dining and travel. Even during these challenging economic times, our style and brand-conscious customers demand quality products that reflect their sophisticated taste level.
In Her Shoes: As we all know, entrepreneurship requires large doses of focus and sacrifice. What inspires you to fight the good fight when you're running on fumes?
Tara Guillaume: Knowing that there are millions of pet owners who often spare no expense to please their pet pals, my desire is to create a legacy that will continue past my lifetime, and my quest to create a new way to shop for pet grooming products inspires me to forge ahead even when I want to give up. I decided to take a chance on creating this business because I'm truly an entrepreneur. I figured that if I can help publications make millions of dollars creating, planning, executing and managing marketing programs, then I could do the same thing for myself. While it's challenging, it's very satisfying too!

In Her Shoes: Do you have plans to open up a flauci brick and mortar location?
Tara Guillaume: Eventually, I will open retail locations around the country—small, luxe-looking thumbprints that reflect the whimsical, uncluttered yet fun spirit of the flauci brand. But first I want to increase the company's brand exposure as an e-store that combines the product breadth, value and convenience of a pet superstore with the distinctive environment and experience of an upscale pet specialty retailer. To do so, I'm investing my marketing efforts towards direct mail initiatives such as catalogs and e-blasts. I'm also investing time in the continued design evolution of the site.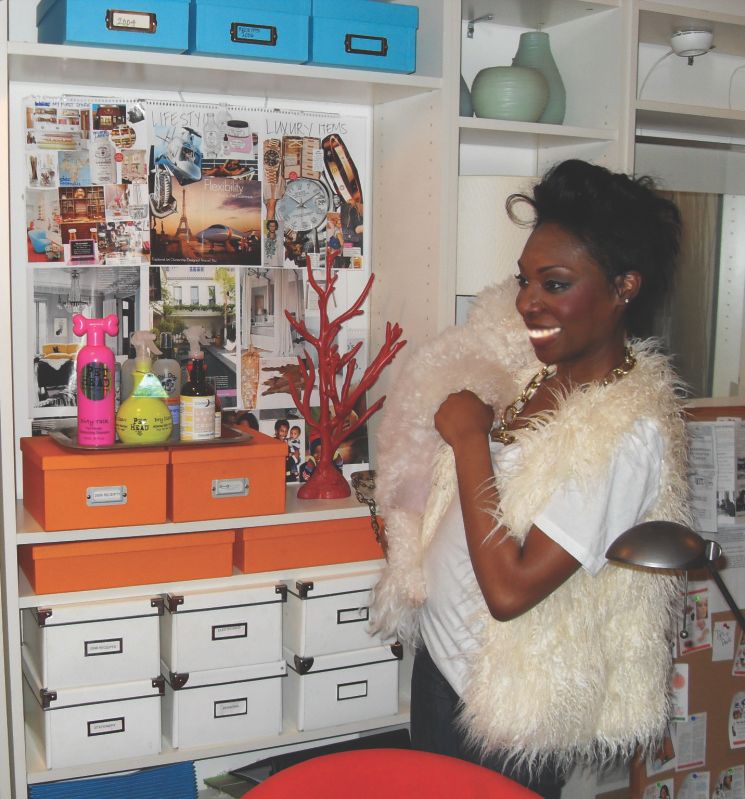 In Her Shoes: What's next for flauci?
Tara Guillaume: I'm going to continue branding flauci as the ultimate retailer for all things pet-beauty. Flauci will be the next Sephora for pets!
In light of the events taking place in Haiti, Tara wanted to share these closing thoughts with In Her Shoes readers:
I've traveled to Haiti many times in the last decade, and know that the country suffers from many disadvantages. So my heart bleeds for Haiti, for the loss, for the devastation. I hurt for all the suffering in Haiti. I have to finally stand up and help to rebuild the nation in whatever way I can. I encourage everyone reading this to do so as well.
-Tara Guillaume
Would you like to help people of Haiti who lost homes, friends and family in the January 12th earthquake? Click here for a list of places online where you can easily and quickly make a donation without even leaving your home or office.
For additional information on flauci, the Pet Beauty Shop, please visit www.flauci.com.