Fly Female Entrepreneurs
Fly Female Entrepreneur
By
|
Anita Watkins: Sixxfoota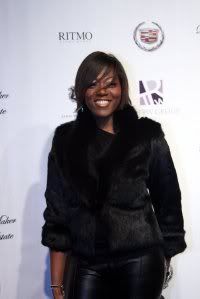 In Her Shoes: One of my favorite quotes is "don't wait for the perfect opportunity, create it!" and Sixxfoota story epitomizes this progressive thinking. For those of us not familiar, tell us what inspired you to launch Sixxfoota:
Anita Watkins: Sixxfoota was born of necessity…which they say is the mother of invention. As a tall woman, it was always difficult for me to find clothing that was fashionable and fit. After so many disappointments, I started creating my own designs or either altering the designs of others to create the look and fit I wanted. After numerous requests for the name of the designer or store where people could purchase what I was wearing, I decided to do a little research and see if a business opportunity existed. And…it did!
In Her Shoes: What are Sixxfoota's most popular pieces and why?
Anita Watkins: Wow…there are quite a few "fan favorites," but, if I had to choose a couple I would say our 1) Metallica jacket (lambskin leather with hand painted and beaded embellishments) 2) Foxy Baby Jacket (natural fox fur reversible jacket) 3) Drama Queen Coat (maxi-length cashmere/wool double breasted coat w/leather buttons; and, Belen Coat (baby lambskin with sheared rabbit collar).
In Her Shoes: I love that Sixxfoota is more than a concept brand; you also do a lot of philanthropic work in the community as part of your "Love Heals" program. Tell us a little about this initiative:
Anita Watkins: Love Heals was born from something that I am incredibly passionate about – improving and empowering the lives of girls and young women. To meet that desire, I wanted to figured the best way to incorporate my two passions – design and philanthropy – I designed a tee with the beautiful lace heart. The concept is inspired by the belief that all relationships begin with self-love…that starting from within opens us up to greater giving externally, and empowers us to give our time, energy and resources to help and heal others.
What has been the most gratifying aspect of launching Sixxfoota?
Anita Watkins: The most gratifying aspect has been knowing that I am helping others…that by providing clothing that fits I am assisting, in a small way, women who don't want to worry about what they are wearing. Who no longer want to feel self-conscious about their clothing. They can walk tall – head held high…spend time prepping for a meeting instead of worrying about the length of their sleeves or pants hem. That's the best thing.
What advice would you offer a designer looking to launch her/his own concept brand?
Anita Watkins: Think it through…do your homework.
In Her Shoes: Can you give us an idea of what a day in Anita B. Watkins' shoes is like?
Anita Watkins: As you know, as an entrepreneur the days are looonnnggg (smile). We are always looking for ways to grow and expand the brand…to continue to provide the types of products and services our clients want.
In Her Shoes: Who would be your dream Sixxfoota celebrity client?
Anita Watkins: The 5'11" First Lady – Michelle Obama – of course.
In Her Shoes: What's next for Sixxfoota?
Anita Watkins: Right now we are working on new products – and a new range of sizes for our Sixxfoota and Fivefootas alike!
For additional information on Sixxfoota visit www.sixxfoota.com.