Fly Female Entrepreneurs
Fly Female Entrepreneur
By
|
Melissa Finney: Dames and Broads
Take a peek inside your lingerie drawer and be honest with yourself. Does all of the boring, flowery cotton in your collection concern you at all?  Every woman – single or spoken for – deserves a sizzling lingerie arsenal so read on, lovelies. We're about to heat things up nicely as Melissa Finney,  founder of the gorgeous, new lingerie line, Dames and Broads, talks to In Her Shoes about why lingerie is like champagne, the challenges and opportunities of e-commerce, and her soon-to-be lingerie empire.
In Her Shoes: What was your inspiration behind the development of Dames & Broads?
Melissa: I have always loved lingerie. At 6ft tall and an extremely curvaceous size 12, I always felt too tall and too big when shopping for clothes…but every department store always had a 36C bra and a matching set of panties. And once I slipped into those, I felt beautiful. I wanted to feel that daily and I believe all women should have the experience.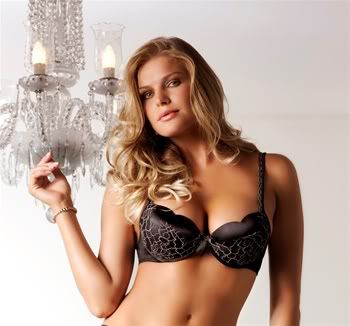 It wasn't until I moved to Paris in my late teens, that I realized that there were women who indulged in that everyday luxury. Parisian women seemed to wear lingerie simply for their own pleasure and the way it made them feel. A few years later I visited my brother in Brazil, and I had finally begun to embrace my own voluptuous figure. But I was still amazed by how revered my body type was there and how Brazilian women seemed extremely sexually empowered.  It was then that I began to think that American woman were being denied something special.
I created Dames and Broads to cater to the needs of women who want and deserve to feel sexy everyday. We allow our ladies to shop for lingerie by body type and country of origin so they are only choosing from items that will make them looks and feel their best and most sensual. We like to think of ourselves as lingerie curators bringing the very best reasonably priced options from around the world to our customers.
In Her Shoes: You describe a dame as a woman with "can't live with 'em and can't live without 'em' quality" and a broad as a woman who is "tough and not to be messed with." Would you call yourself a dame or a broad?
Melissa: I would proudly call myself a broad. I am scrappy, courageous and never really believed traditional rules applied to me. I am way too inappropriate to be a Dame.  I own an online lingerie site for god's sake!  My heroes have always been the degenerates and the underdogs.
In Her Shoes: In your blog, Love, Life and Lingerie, you've taken readers through the ups and downs of developing an e-commerce site since September. What were some of the largest challenges to starting an Internet business?
Melissa: There are quite a few challenges to starting an Internet business.  One of my earliest problems was prioritizing and allocating resources. Everyone was fighting for their share of the pie. I had graphic designers telling me the most important thing was how the site looked ("no one will buy anything if it doesn't look good" they said). Web developers told me the most important thing was shopping cart software and functionality ("the site has to work and all must revolve around the user experience"). Publicists told me that I had to get press (no one will even come to the site if they haven't  heard of you). Marketers told me I had to advertise. And of course I still had to purchase product from vendors… It was nerve racking deciding budget allocations. But the recession has actually worked in our favor.  We were able to negotiate everything and get amazing rates. We still had to pick our battles but these hard times have created amazing cost cutting opportunities.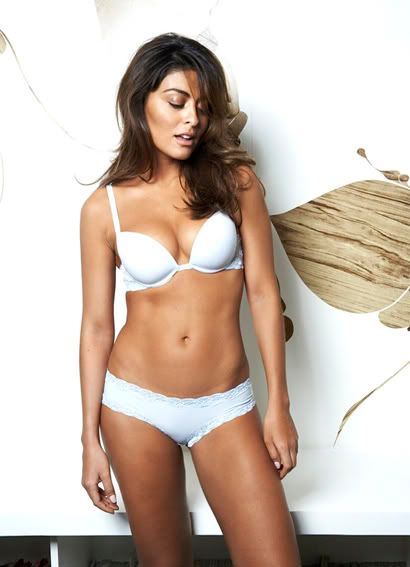 Interestingly, we also have a few cultural challenges since we are importing from all over the world. For instance, we were working with one Brazilian line to ensure delivery before Valentine's Day. By early February, we began to get very nervous when no shipments had yet arrived. A call to our vendor uncovered the problem… they had every intention of delivering before the holiday. But in Brazil, Valentine's Day is in July….
But the largest challenge I faced was losing my business partner early on in the process. I had to convince myself that I was brave enough, tough enough and smart enough to continue on my own.  No book will teach you that.  And no amount of start-up capital will replace self confidence and courage.
I make an effort to surround myself with other female entrepreneurs and they help me get through the really rough days.
In Her Shoes: Client service seems to be a cornerstone of your business strategy, whether it's through delivering gift-wrapped lingerie quickly or finding women their ideal intimates in their unique size. Can you explain why superior client service is so important to your business, or any business for that matter?
Melissa: Superior customer service is just smart business. The success of companies like Zappos, Nordstrom, and Trader Joe's are evidence of that. And during a recession, when even the rich are counting pennies and scrutinizing every financial decision, taking the best care of your customer is the only option.
In this economy every dollar someone chooses to give Dames and Broads is an honor and should be treated as such. I've been in sales for almost 15 years and I know that when all things are equal, customers will always choose the vendor that treated them better.  And sometimes, when things are not at all equal, some folks will spend more to be treated well.
In Her Shoes: The Dames & Broads motto is "lingerie, like champagne, is for everyday." Why did you choose to sell lingerie and what makes it so important in a woman's daily life?
Melissa: Dames and Broads is rooted in the belief that all women have a god given right to feel alluring and beautiful each day of their lives.  Undergarments are the first thing we put on and the last thing we take off and have the power to impact how we feel about ourselves. Any woman who has put on a matching set and smiled at her reflection in the mirror knows the healing powers of lingerie.  That feeling should not be limited to anniversaries, holidays and birthdays. It should not only be for those who can afford $400 bras. And it certainly is not reserved for one standard of beauty and body type. It's amazing how so little fabric can make us feel so beautiful, so worthy, so powerful. It's a small gift we deserve to give ourselves every day.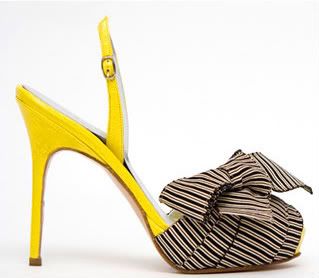 In Her Shoes: Tell us about a day in Melissa's shoes.
Melissa: Every day is so different but inevitably my day begins with the daily sales report. Every action I take after that is dictated by what I think will impact that report and what did or did not work the day/week/month before. Search engine optimization, blogging, managing advertising campaigns, press outreach, dealing with overseas vendors, etc. are all part of my day as we constantly test different strategies. But all efforts are built around increasing site traffic to damesandbroads.com and conversions.
In Her Shoes: Who's your favorite dame? Who's your favorite broad?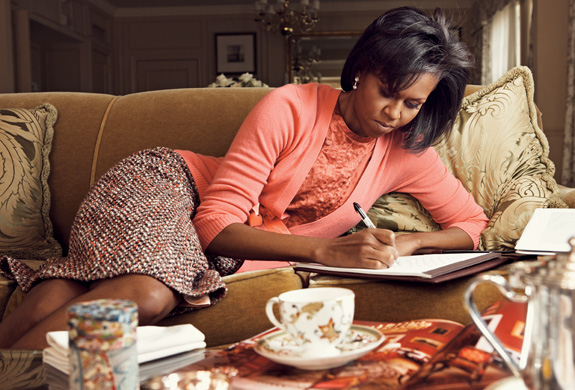 Melissa: There are so many women I admire but my favorite dame is Michelle Obama. Just the sight of her brings a smile to my face and at times tears to my eyes. I think of her as a lioness ferociously protecting her children, her husband and our communities. My first lady's black…
Madonna is by far my favorite broad. She is formidable and a force to be reckoned with.  I don't think anyone could outwork her. For some reason I have always found workhorses extremely sexy. Especially those who could have rested on their laurels long ago.
In Her Shoes: What can we expect to see from Dames & Broads in upcoming seasons?
Melissa: Expect us to continue scouring the globe for our ladies. We will soon be carrying lines from Australia catering to athletic body types and fashionable nursing bras from New Zealand. New moms never really get to think about themselves and these bras are both practical and sexy.
I can't believe I get to travel the world in search of panties… It's not a bad life!
As a special gift from Dames and Broads, In Her Shoes readers will receive 20% off purchases now through April 30th, 2009 by entering the code "inhershoes" at checkout. For additional information on Dames and Broads please visit www.damesandbroads.com.
Interview By: Kamari Guthrie, In Her Shoes Contributor