In Her Shoes Home
"Brooklyn Influence"
By
|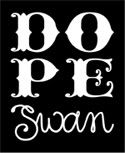 So, do you have plans for this Sunday afternoon? The lovely ladies of Brooklyn-based community arts organization, DOPE SWAN, are joining forces with Danny Simmons' Corridor Gallery to host "Brooklyn Influence."  A photographic memoir of 2008's "A Great Day in Brooklyn" and "Another Great Day in Brooklyn," a "Brooklyn Influence" features the work of renowned documentarian Jamel Shabazz and visual storyteller Lafotographeuse. The exhibition is a visual blueprint of Brooklyn residents who eloquently merge the worlds of art, activism and entrepreneurship. I'm honored to say that I had the opportunity to participate in this historic project and look forward to seeing it come full circle with this amazing exhibit.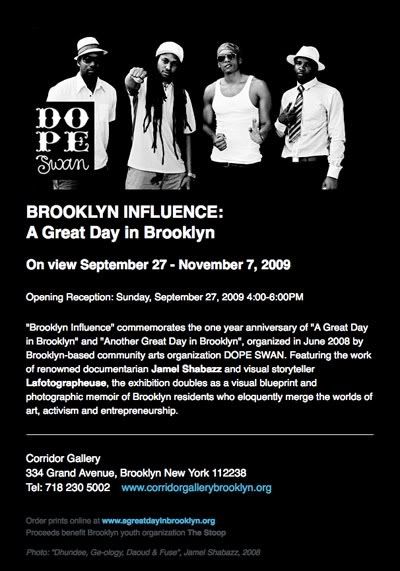 Shot on the stairs of the iconic Brooklyn Museum and Brooklyn Bridge Park in June 2008, participants of the landmark events included community movers & shakers alongside:
Black Girls Rock! founder DJ Beverly Bond
Michael K. Williams from HBO's "The Wire"
and Mos Def, just to name a few…
The opening reception will commemorate the one year anniversary of these unprecedented gatherings and serve as a fundraiser for the Brooklyn-based youth program, The Stoop, a weekly arts conversation between successful Brooklyn residents and area high school students.
Photographer, Jamel Shabazz
"I am so grateful that DOPE SWAN invited me to shoot 'A Great Day in Brooklyn.' These brothers and sisters represent the best of Brooklyn and I believe we've thoroughly captured them in these images," said Jamel Shabazz.
The show will run from September 27–November 9, 2009 with an opening reception on Sunday, September 27 from 4:00PM – 6:00PM.
*Signed limited edition posters of the historic "A Great Day in Brooklyn" will be available for pre-sale at the opening. Corridor Gallery is located at 334 Grand Avenue, Brooklyn, New York 11238. To learn more about "A Great Day in Brooklyn" visit www.agreatdayinbrooklyn.org.