In Her Shoes Home
Bronx Princess
By
|
I'm the first to admit it. I'm not a big movie chic…I think the busy body in me gets a little nervous knowing that I'd need to sit still  and focus for two hours (or more) but every once in a while there's a film that I just have to see. Enter "Bronx Princess," the much-buzzed-about documentary," currently featured on PBS.org as part of its Point of View series.
Buoyed by an infectious West African "high-life" score by Ghanaian hip-hop artist Blitz the Ambassador and a protagonist who is irresistibly charming — even in her most teenage moments  — "Bronx Princess" is a coming-of-age story for the 21st century.
"Bronx Princess" is directed by Yoni Brook and Musa Syeed, whose first film "A Son's Sacrifice" was broadcast nationally on PBS' Independent Lens series in 2008 and won the Best Documentary Short Award at the Tribeca Film Festival. "A Son's Sacrifice" tells the story of Imran, a young American Muslim, who struggles to take over his father's storefront slaughterhouse in Ozone Park, Queens.
In both films, Brook and Syeed, themselves the children of immigrants from Israel and Kashmir, tell fresh stories of first generation Americans in New York City.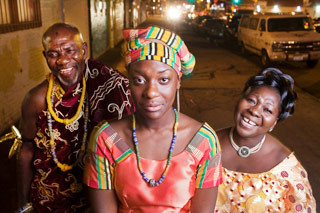 The week has been super busy but for good reason.  I got a chance to catch up with "Bronx Princess" Co-Director and Producer, Musa Syeed to learn a bit more about the and how working on the film has inspired him. Here's what he had to say:
In Her Shoes: Congrats on the development of such an awesome film! For "In Her Shoes" readers who haven't logged on to see "Bronx Princess" yet, tell us why it's such an important documentary to support:
Musa Syeed: Parent-child relationships are always complex. In particular, mothers and daughters have their own set of challenges, but films don't often get the nuance of that relationship right. With "Bronx Princess," we tried to capture not only the tension in the mother-daughter relationship, but also the love and tenderness between them.
We feel very grateful to help share the story of two such strong, intelligent, ambitious women, who might not always see eye-to-eye on everything but who clearly love and respect each other.
In Her Shoes: We hear the "The Bronx Princess" was welcomed with open arms at the African Film Festival. Please tell us more about the experience:
Musa Syeed: There have been great responses from audiences around the world, in Europe, Africa, and here in America. During one of the screenings at the African Film Festival in our hometown of New York, a group of 25 youth came, mostly young teenage girls, as well as the subjects of the film, Auntie Yaa and Rocky. When the movie was over, the girls surrounded Auntie Yaa and asked her questions on how to deal with their own parents. Auntie Yaa was happy as always to share her wisdom. It was great to see how the film resonated universally with mothers and daughters from different backgrounds.
In Her Shoes: What was the most memorable aspect of working on the "Bronx Princess?
Musa Syeed: Spending a summer following Rocky through the rites of teenagehood was like a trip down memory lane for me. It brought back so many memories of my own teen years and how much my relationship with my parents has improved since. Dropping Rocky off at college was probably one of the most memorable moments. After having tagged along with her from the Bronx to Ghana, we left her at a place that seemed so different. And to see her mother's realization that it was real, that her daughter was going to be on her own now, was so emotional and really hit home. We're not always privy to our parents' vulnerable moments, but in making this film we got to experience every trial and triumph–however small–along with Auntie Yaa.
P.S.
The film's score was created by an artist who is currently getting heavy rotation on my ipod, Blitz the Ambassador. If you're not familiar with this talented rising star, here's a little backgrounder for you:
Blitz the Ambassador
Blitz The Ambassador, from Ghana with a touch of Trenchtown, lives in Brooklyn. Drawn to a coming-of-age narrative with a new perspective, he composed and arranged all the music for the documentary film "Bronx Princess." Through an international lens, he melds the tradition of Ghanaian high-life with the jazzy nuances of an upright bass, hints of reggae, orchestra strings, and a horn section that lifts live hip hop to new heights.
Bllitz's brand new album "Stereotype" is available on iTunes, and his videos are in rotation on MTV2.
So there you have it – a behind the scenes look at the making of "Bronx Princess." Mark your calendars so you can catch this amazing documentary on PBS.org before it ends October 23rd! Ready to check it out now? Click the following link: http://www.pbs.org/pov/bronxprincess/.
Enjoy and have an awesome weekend!