In Her Shoes Home
Closet Refresher Tips
By
|
Shayla Cox, Fellow Style

We know it's hard to believe, but soon it will really feel like Spring and for some, the usual shopping spree that ensues at the change of seasons may be an unrealistic notion.  In Her Shoes has tapped into the expertise of New York City personal stylist and shopper, Shayla Cox, who will share her priceless Spring 2009 Closet Refresher Tips to help maximize what you already own. If shopping is necessary, it will be the absolute necessities, and not a complete free-for-all.  Here we go!
1. Yes, the 80/20 Rule Applies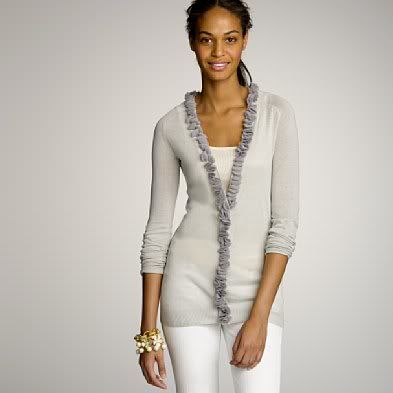 So, not sure if you know this but, you wear 20% of your clothes 80% of the time.  Never thought about it like that, huh?  Everyone is different, but these clothes are most likely your basics: your daily denim, those comfy flats you can't do without on the weekends, or that cardigan that makes your life complete.  Figure out what's included in your 20% and know that when shopping, items similar to those in your 20% can be investments (if necessary.)  Don't spend all your money on something you can and will only wear once!
On the contrary, look at the things that aren't a part of the 20%.  Pull out those pieces that you haven't worn in a while.  Hopefully, it wasn't too trendy and may have just fell by the way side.  Find a new use for it, and pair it with something new.  The tips below will assist as well.
2.  Swap/Borrow Clothes with Friends and Family
Tread lightly here ladies… you know whom you can, and can't borrow from and lend to.  However, take it back to college and go through your friend's closet.  Hey, try your mom's closet, she may have some cool finds from the 70's or 80's that you can jazz up and make your own.
Some stores are even getting in the game.  A vintage store around my way in Brooklyn, Collecther, has clothing swap events where you pay a small flat fee to get in and all the ladies bring the clothes they no longer wear.  What fun!
3.  Be Inspired
Find inspiration in everything… that chick you see at the neighborhood restaurant that always has on the cutest shoes, or your fave blog with hot pictures of real street style.  Are you an art fanatic? There's plenty of inspiration there; if the colors work well together in a painting, they probably work well for your ensemble.  Maybe there is a culture that speaks to you, their colors, the jewelry, the fabrics produced by the people.  Be careful not to go overboard and make the look too literal, you wouldn't want to look like you're in costume. Take aspects of what you see and your experiences and incorporate them into your style.
To get started, look through magazines and pull out pages of the things you're drawn to.  It doesn't even have to be clothing related.  You may want to also start an inspiration board in your office or  folder on your desktop. Whenever you see an image you love, or someone who looks magnificent, add the picture to your inspiration board.  Before you know it you'll have an entire collection of pictures to reference for hair, make-up, and clothing ideas.

4.  Mix Patterns & Textures
This will probably be one of the more difficult things to do but practice, practice, practice.  The key here is to find patterns and textures of different scales.  Think of a small pindot shirt and maybe a large print paisley skirt.  To start, keep the colors muted and/or monocramatic until you get comfortable with the process.
This change in thought may open up a new realm of possibilities that you never thought of.
and lastly…
5.  It's OK to have a signature piece. It's all about branding!
It's completely fine to have a signature piece that you wear all the time (I would suggest an accessory).  Or maybe its how you style your hair, or it could be the red lip that you can't get enough of.  This is the era of YOU… what's special about you?  What is it that only you do or that you're known for?  Capitalize on that!  This is a completely good excuse to repeat things in your wardrobe ladies!  People will recognize it when you are consistent, but you must look like you did intentionally.  Keep them guessing by rocking the same thing (or a consistent silhouette in an array of colors) in completely different ways, and of course, confidence will take you far.  Know that you look AMAZING, no questions asked.
We all know Tracee Ellis Ross is going to rock beautifully tailored pieces with luxurious, well-coifed tresses and it works!
Photo: batchplease.com
And what about Amber Rose (Kanye's new arm candy)? She is definitely making a statement every time she walks out the door with her blonde buzz cut and edgy delivery.
So…what's your statement?
Follow Shayla's Spring 2009 Closet Refresher Tips and you can do no wrong!  As a personal stylist and shopper, she lives by these friendly words-of-wisdom everyday.  If you have questions or want to know more about Shayla's services please don't hesitate to email her at shayla@fellowstyle.com or visit www.fellowstyle.com.