In Her Shoes Home
Save the Date
By
|
Ashaka Givens Spring 2009 Event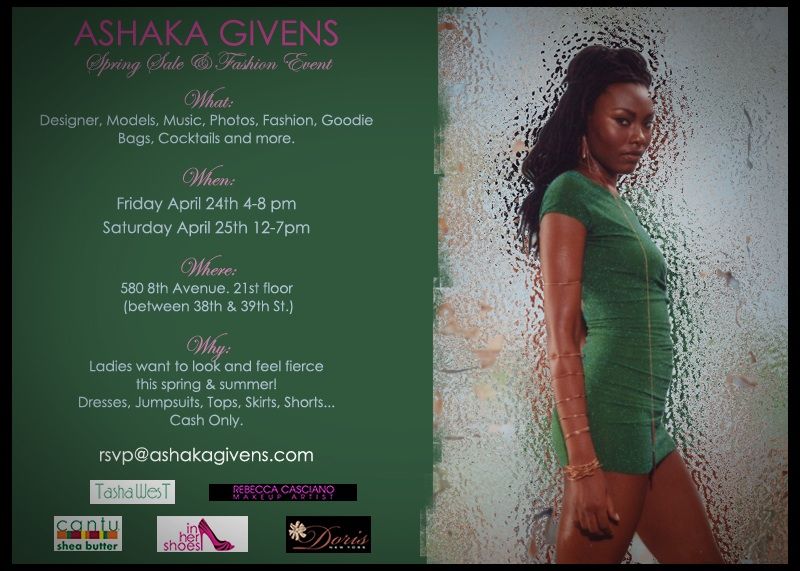 Spring is upon us and while it may still feel like winter in most parts of the country, we've got to prepare ourselves for the warmer temps that lie ahead. Miss Ashaka Givens, a designer we chatted up back in January regarding her inauguration dress design on essence.com, is hosting a two-day celebration of irresistible fashion indulgence and In Her Shoes readers are invited!  If you're craving the days of feminine flowy frocks, lightweight blouses, sexy thong sandals, and fresh pedicures, the Ashaka Givens Spring Event is just the inspiration you need to unleash your inner Goddess.
While getting the scoop from Ashaka on her inspiration for the event, this is what she shared:
"I'm calling this collection for Spring/Summer 2009 'Tribe of Butterflies.'  It is inspired by the magic of renewal that Spring brings, the energy of NY warming up, and all my gorgeous butterflies (women) who love to style, dress and be fierce!"
ASHAKA GIVENS
Spring Sale & Fashion Event
What: Designer, Models, Music, Photos, Fashion, Goodie Bags, Cocktails & much more
When:
Friday, April 24th 4-8 pm
Saturday, April 25th 12-7pm
Where:
580 8th Avenue. 21st floor (between 38th & 39th St.)
New York City
Why:
Ladies want to look and feel fierce this spring & summer!
Dresses, Jumpsuits, Tops, Skirts, Shorts…
Cash Only.
RSVP: rsvp@ashakagivens.com
I'm beyond ready to get fab and April 24th feels like months away so following is a little vintage Ashaka Givens to tide us over a bit…
In Her Shoes will be on the scene snapping pics paparazzi style so come out camera-ready!