Fly Female Entrepreneurs
Fly Female Entrepreneurs
By
|
Tirinda Hixon and Noricia Anderson: Cut it Out! Apparel
The Cut it Out! Team: (L-R) Tirinda Hixon, Janay McNeill & Noricia Anderson
In Her Shoes: How did you get your start in design?
Tirinda Hixon: Living in NYC, one of the most fashionable cities in the world, helped to fuel our creativity and desire to start designing.
I've always had a passion for graphic design and while in college, I took a few graphic courses. I loved it and wanted to somehow apply it to fashion. Additionally, in the early 2000's I produced and directed a short documentary titled, "My Lil' Sis: A Series." which discussed misogyny in Hip-hop and within the black community. While working with the young females on this documentary and after researching a majority of issues related to women and self-esteem, I developed the idea for Cut It Out! I love to design on tees because they are an essential piece in almost everyone's wardrobe, and they're an amazing canvas!
Noricia Anderson: I began designing once I teamed up with Tirinda and Cut it Out! I contribute to Tirinda's designs by selecting bold colors to compliment our messages.
In Her Shoes: At what point in the development of your brand did you realize that you were really on to something?
Cut it Out!: During our initial development phase we decided we needed a test-bed to provide us with feedback on our products. So, after creating about five tee designs we decided to participate in a local street festival. We wanted to see what our audience thought about the brand, and test whether we were heading in the right direction. We were delighted to receive highly favorable responses from both women and men about our products at the festival. We knew then that a product like ours was definitely needed.
In Her Shoes: Tell us what a day is like in your shoes.
Cut it Out!: A typical day for Cut It Out! can vary. We are a team of two, with help from a few interns, so we juggle responsibilities appropriately. Time management is essential because we both have full-time day jobs and families to tend to.
Our day can include anything from spending hours creating a new concept; to running to an impromptu event or photo shoot to drop off products. We are constantly on the go and very hands-on with our printing process. We like to visit our printers when our jobs are being done, to make sure they're in sync with our vision for the finished product. In addition, we both participate in all of our vending events and festivals in order to gain first hand feedback from our customers.
This leopard print shoe is very characteristic of a day in the life of a Cut It Out! girl. Like a leopard, we are opportunistic and adaptable. We also aim to hunt and combat all stereotypes.
In Her Shoes: If you could exclusively design a Cut It Out! tee for one powerful, strong and accomplished woman today, who would it be and why?
Cut it Out!: We'd have to say Kelis! She's an amazing young style icon and trendsetter. She's also a smart woman who demands to be respected in her career and personal life and it's reflected in her music. Creating a Cut It Out! tee for her would be extremely fun because she's just so edgy and fashion forward.
In Her Shoes: What fashion icons have inspired your work?
Cut it Out!: We've cast a wide net because there are so many fashion icons that play major roles in what inspires and influences our brand. From the women in our lives – mothers, sisters and friends, to those in our community – women going about their daily routines, in addition to those in the public eye –  Diana Ross, Grace Jones, Erykah Badu, Kelis, Lauryn Hill, and many more.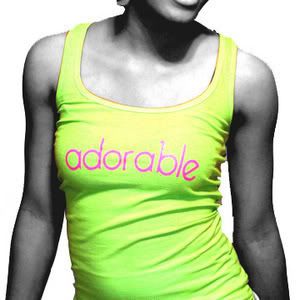 In Her Shoes: With so much competition in the tee shirt industry, how does your brand manage to stand out in the crowd?
Cut it Out!: We feel that our positive statements help to distinguish us from the rest. Our line was specifically created for females to assist in promoting healthy self-esteem, and to enlighten those who have forgotten that respect is essential. We felt that this was something that this arena lacked, and we're happy that we have been successful in filling that void by providing our audience with tees they can feel good about.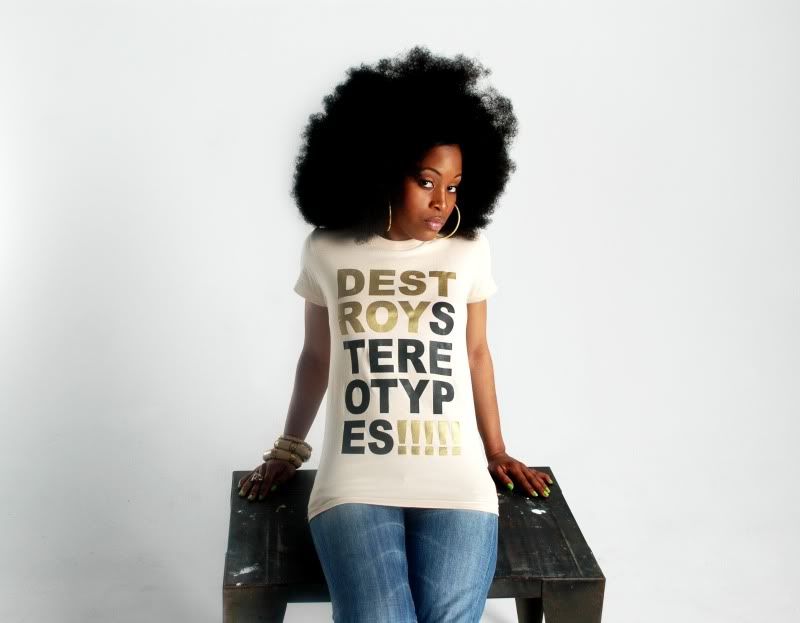 In Her Shoes: One of my favorite shirts from your line reads "Destroy Stereotypes." What inspired you to create this tee? Any personal experiences you'd like to share?
Cut it Out!: The "Destroy Stereotypes" tee was inspired from our belief that powerful messages can be used as a positive tool to empower young women. Our culture is inundated with negative images and statements every day. This tee was designed to counter that content with a strong affirmation.
Personally, as black women, there have definitely been moments in our lives where we have been made to feel alienated by our gender, skin color, and/or hair texture; be it an unpalatable glance or ignorant comments. We feel that this tee helps to assert that everyone is unique and not a reflection of ignorant ideologies.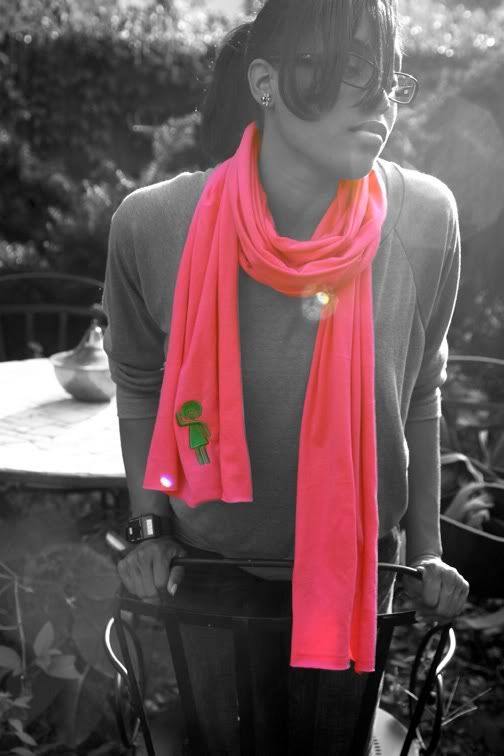 In Her Shoes: Where can we expect to see Cut it Out! tees in the future?
Cut it Out!: During the upcoming months we will be working on wholesaling Cut It Out! tees to stores locally, nationally and abroad. This is a big step for our brand so you can expect to see Cut It Out! in small boutiques worldwide.
To get your own head-turning Cut it Out! piece visit www.cutitout.bigcartel.com.