Fly Female Entrepreneurs
Fly Female Entrepreneur: Sabrina Carson
By
|
Sabrina Carson: The Nail Boutique NYC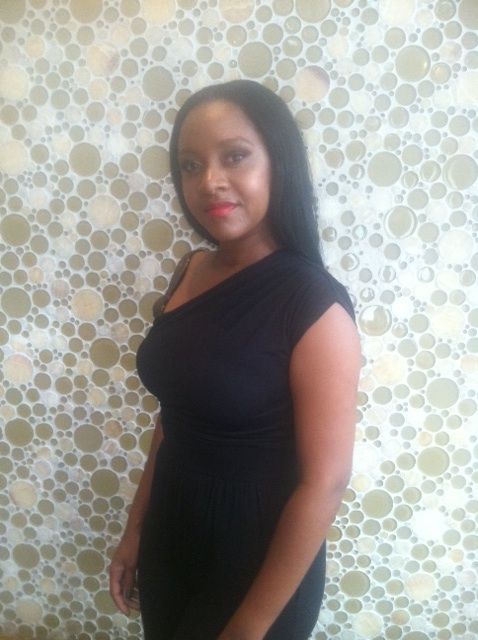 Are you in need of a manicure, pedicure, or just looking for a way to unwind after a long day? Sabrina Carson has just what you need. As owner of The Nail Boutique NYC in Brooklyn, Sabrina is committed to giving New York City some much needed TLC, one mani at a time.
The elegantly decorated shop specializes in high-end manicures, pedicures, gel nails, sea salt scrubs and waxing, in addition to paraffin treatments and the extreme in luxury: pedicures in calming massage chairs. The charm of The Nail Boutique NYC is that it boasts a posh day spa feel, without the expensive prices. Today, Sabrina chats with In Her Shoes about her entrepreneurial journey and the actress she'd love to have in her salon immediately!
In Her Shoes: How would you describe The Nail Boutique NYC in five words?
Sabrina: To describe The Nail Boutique in five words I would have to say it's luxurious, unique, relaxing, innovative and memorable.
In Her Shoes: What was the largest obstacle you faced launching your business and how did you overcome it?
Sabrina: The largest obstacle I faced was the difficult obstacle of acquiring bank loans and the different programs I had to go through for the bank approvals. Even though I have good credit, the qualifications they wanted were set at such high standards that it made things so much harder.
In Her Shoes: What can we expect from The Nail Boutique NYC that we won't find anywhere else?
Sabrina: My goal was to create a unique environment fully equipped with the best and most efficient tools and services to make our customers feel at home. Whether it's the top of the line pedicure seats or the soothing sound of the waterfall to relax you, it's all about an efficient yet peaceful environment.
In Her Shoes: What led to your decision to make Clinton Hill, Brooklyn The Nail Boutique's home?
Sabrina: Clinton Hill represents the new Brooklyn. The neighborhood is so diverse, filled with eclectic minds and has a sense of up and coming opportunities. It's a mixture of the old and the new and we wanted to be right in the middle of it.
In Her Shoes: What is a day like in your shoes?
Sabrina: Be ready to pump around all day! I start early and end late! I'm usually the first one in the salon and the last one out. During this process I have learned to wear many hats, from designing to construction, so I have to be sharp and willing to take on numerous battles that each day presents me.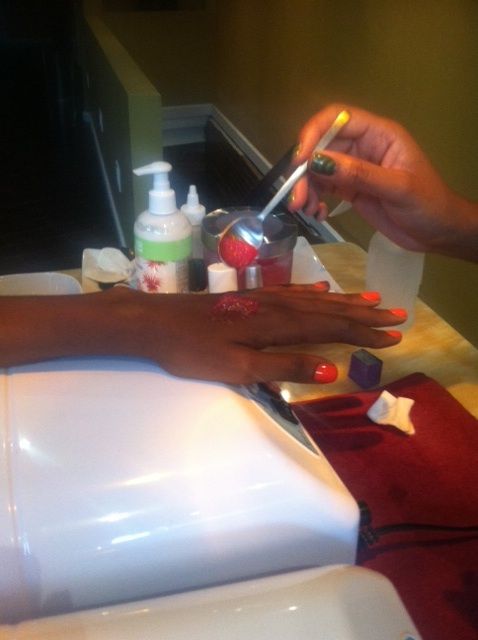 In Her Shoes: Who or what has been your greatest inspiration throughout the process of launching your brand?
Sabrina: My inner strength has been my biggest inspiration because I didn't always have it. After years of working in nail salons, I had to overcome adversity. These obstacles ignited my drive for more, and my desire to provide myself with the best and creating a space where I could provide the best to others.
In Her Shoes: If you could do any woman's nails on the planet, who would it be and why?
Sabrina: I would love to have Tracee Ellis Ross at The Nail Boutique. She is the epitome of style, grace and class. A strong educated woman not afraid to be feminine and always look her best never letting herself go. Fabulous!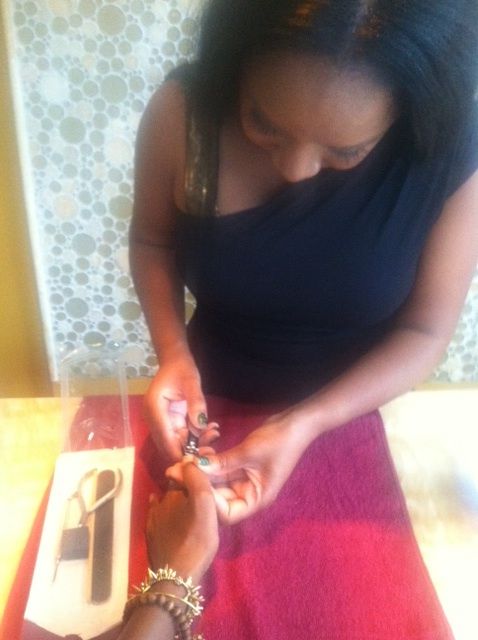 In Her Shoes: What big plans do you have for the official launch of The Nail Boutique NYC?
Sabrina: The launch is just the beginning. After doing a press event and a grand opening, we're definitely shooting for the stars. I plan on keeping things fresh, whether it's the variety of services that we offer such as a Reflexology treatment or doing fabulous events in our lounge such as a girls-night-out affair, I want to ensure our clientele there is always a reason to come back to The Nail Boutique.
In Her Shoes: Any closing thoughts?
Sabrina: Never give up on your dreams because sooner than later, they become your reality.
To learn more about The Nail Boutique NYC visit www.thenailboutiquenyc.com or visit the salon at 983 Fulton Street, Brooklyn, New York.