Fly Female Entrepreneurs
Fly Female Entrepreneur
By
|
Ana Bravo: Visual Artist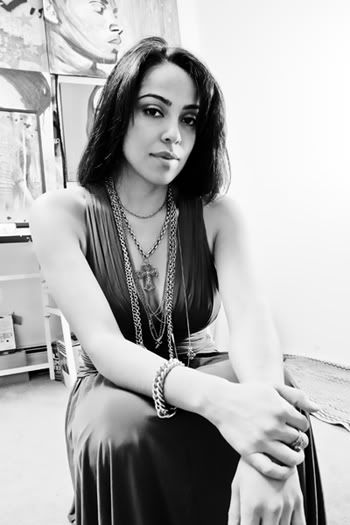 Photo Credit: John Walder
Miss Ana Bravo is an über-talented New York-based visual artist that we think you should get to know. As a young girl, Ana's family emigrated from Mexico to Salinas, California. At the age of 20, she moved to San Francisco and was exposed to the world of fine art through a job at the Oakland and Berkeley Public Library's Art & Music department.
Ana's work has been featured in art galleries, cafes and venues throughout the Bay area for years. In 2004, her work was featured in a collective art show in Cuba. Since 2005, her works have been shown as part of the annual Hustlenomics group show in New York City.  Ana had her first NY solo exhibit in 2008, which featured her Cruda series (as seen below) at the Freshthetic Gallery in Williamsburg, Brooklyn.  The ambitious beauty currently resides in Brooklyn, which she affectionately refers to as her  "inspirational goldmine."
Although she's busy preparing for this weekend's opening of the highly-anticipated "Live to Change Something Through Art" exhibition, Ana took some time out to chat about life as an artist with In Her Shoes. Here's what she had to say…
When and how did you launch your career as an artist?
I guess it would have to be the first time I was featured in a show. This was about ten years ago. I submitted my work to ProArts Gallery in Oakland. I didn't make it into the show, but they told me to come back and try for the next one. They featured me in their 25th Anniversary group show a few months later and it was a pretty big deal for me!
Did you go to an arts school to receive formal training or are you self taught?
I was self-taught in the beginning. Art schools are so expensive and I knew I would be continuing on to grad school for Library Science, so I decided to go to a state school for undergrad and major in Studio Art as a way to keep art in my schedule and improve my skills.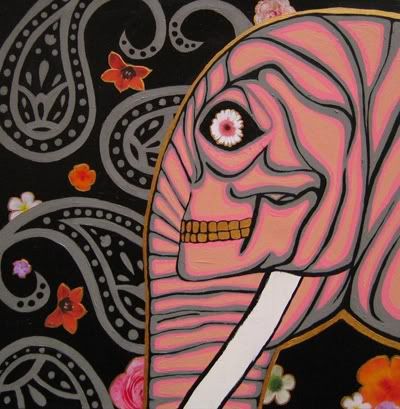 Do you recall which piece you created that helped you realize that you have talent and potential for a career in the arts?
I don't think it was any one piece. The Art world ten years ago was a completely different game. There wasn't the ease and convenience of the internet. Art galleries wanted to see slides of your work. I went around to different galleries in San Francisco to get an idea of what I should be pricing my work at. This was a kind of backwards approach, but some of the gallery assistants were kind enough to meet with me and had actually priced my work relatively high for an unknown artist. That's when I realized that I should pursue it. Come to think of it, I would have still pursued it!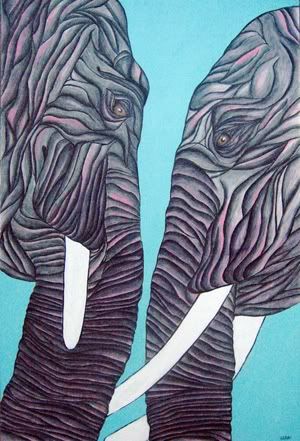 We understand you relocated to New York City from the West Coast. What inspired this move?
New York has called out to me ever since I was a little girl. I always pictured myself here. I can't say that watching the Cosby Show religiously every week when I was growing up didn't play a part in wanting to live in Brooklyn…there was just something about it. I didn't become an artist until relatively later in life and New York is the Mecca for artists so it made sense to make the move.
Tell us what a day is like in Ana Bravo's shoes:
I'm working full-time, finishing up my thesis, interning and trying to get into shows.
It's a juggling act right now. In the past, in order for me to focus on certain things I had to shut people out at times. I learned the hard way…that's not the way to go. It's important to have supportive people around. And when you have that, you have to make time. Balance.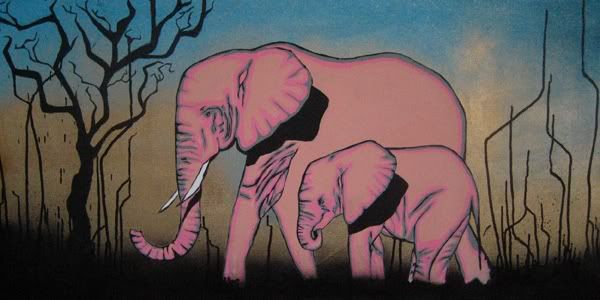 What do you think the biggest misconception is about life as an artist?
The biggest misconception is that if you're not selling work or getting into shows then you're not a talented artist. I have to disagree. I know a lot of talented artists that don't show or sell their work. On the other hand, bad art sells too. I see a lot of that. Art is subjective. Don't buy art just because you feel it's an investment, buy it because you like it and are going to have to look at it for a long time.
Sculpture by: Ron Mueck
If you could create a collaborative piece with any artist on the planet who would it be and why?
I think Ron Mueck is a beast! If you've ever seen any of his sculptures in person then you know what I'm talking about. He's an example of an artist that has taken his craft to the highest degree. It would be interesting to pick his brain. Also, I've been working with the Yili Art Foundation cataloging their collection. They have a huge collection of Brett Cook-Dizney's art…so I've spent a good amount of time staring at his portraits. I've painted portraits in the past, but never as big as his. It would be fun to collaborate on some huge portraits.
Congrats on being selected to participate in the upcoming Coup d'etat Arts Collective exhibition! How do you "Live to Change Something Through Art?"
There are so many children in the world that struggle with trying to fit in. Being different is rarely rewarded when you're growing up. For a long time I struggled with embracing the artist in me because everyone thinks artist are crazy (and they are!). I didn't want to be looked at that way. I can't help it, I'm sensitive…I don't like being labeled. I hope to be able to inspire people to do what they love, no matter what.
What can we expect from Ana Bravo in 2010?
Going full-force with the art! I have so many ideas that I want to experiment with. Not having a lot of time for art these past few months has really made me appreciate it even more. I'm also going to be putting together a collaborative bi-coastal show with one of my friends from Oakland. She's never shown her work out here so it will be fun to make that happen for her.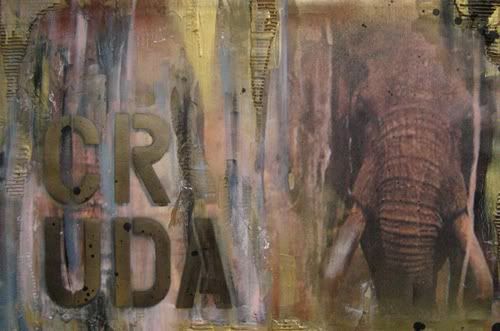 If you're in the New York area, check out Ana Bravo this weekend during the "Live to Change Something Through Art" exhibition's opening reception. The artist's reception takes place this Saturday, November 21st at the Bedford Stuyvesant Restoration Corporation's Skylight Gallery, 1368 Fulton Street, Brooklyn, New York from 4p – 7p.  Click here to learn more about Coup d'etat Art Collective's "Live to Change Something Through Art" exhibition.
For more on Ana Bravo visit www.anabravo.com.